Yet to be conveyed home ministry's decision: Ford Foundation
New Delhi: The Ford Foundation, one of the most powerful international funding organisations, on Friday said it was yet to receive any information on the issue of the home ministry putting it on a watch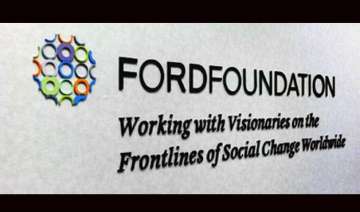 IANS
April 25, 2015 8:21 IST
New Delhi: The Ford Foundation, one of the most powerful international funding organisations, on Friday said it was yet to receive any information on the issue of the home ministry putting it on a watch list.
On Thursday, the home ministry ordered to place the Ford Foundation on a watch list in "national interest and security" of the country.
The foundation in a communication to the IANS said: "We have not been contacted by MHA (Ministry of Home Affairs) regarding any information related to the latest news reports."
"The Ford Foundation has officially learnt that the Ministry of Home Affairs is reviewing information related to their ongoing investigation of Sabrang Communications and Publishing Pvt. Ltd.," it said.
Over many decades, the foundation has built strong relationships with people, institutions and the government of India, and has contributed to the remarkable growth and development of the nation.
The US-based organisation also said that it would continue to abide by the law of the land and would cooperate with the government in its investigation.
"We have been and continue to be deeply respectful of the laws of the land and, therefore, of the process now underway."
"As the current inquiry progresses we will continue to respond fully to official queries directed to us," it told IANS through an email communication on the issue.
"We are confident in our work and compliance with the law and look forward to the outcome of this inquiry. If the government suggests methods by which we can strengthen and improve our grant-making processes, we will take appropriate steps to incorporate them," it added.
The government took action against it in the wake of intelligence reports that such organisations were creating hurdles to the country's development.
The action was taken under Section 46 of the Foreign Contribution (Regulation) Act (FCRA) after the Gujarat government asked the home ministry to take action against Ford Foundation, alleging that it was interfering in the internal affairs of the country.
It was also abetting communal disharmony through two NGOs run by social activist Teesta Setalvad, it said.