Former ISRO chief Vasant Gowarikar no more
Pune: Eminent scientist, former ISRO chief and Padmashree-recipient Dr Vasant Gowarikar died at Deenanath Mangeshkar Hospital this morning.He was 81. Dr Sameer Jog, ICU in charge of Mangeshkar Hospital, said he was suffering from dengue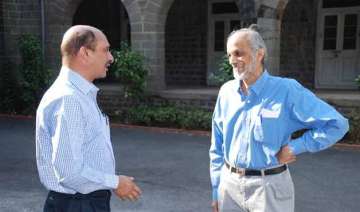 PTI
January 02, 2015 21:07 IST
Pune: Eminent scientist, former ISRO chief and Padmashree-recipient Dr Vasant Gowarikar died at Deenanath Mangeshkar Hospital this morning.
He was 81. Dr Sameer Jog, ICU in charge of Mangeshkar Hospital, said he was suffering from dengue infection and urinary tract infection.
Gowarikar was well-known for his monsoon forecast model. He had worked with the Indian Space Research Organisation. He had also been secretary, department of science and technology as well as scientific adviser to the Prime Minister.
IANS adds: Once head of the Indian Space Research Organisation, he along with senior scientist Vikram Sarabhai, laid the foundation stone for India's space technology and space programmes, culminating in many important milestones.