France may divert its order to meet India's demand for Rafale
Paris/New Delhi: France is likely to divert its own military's production order for Rafale fighter jets to meet India's "urgent" requirement for 36 warplanes.  French defence sources said modalities are being worked out and nitty-gritty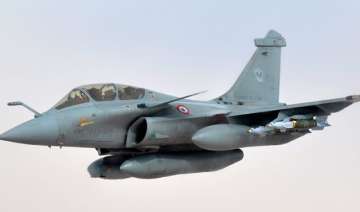 PTI
April 15, 2015 22:37 IST
Paris/New Delhi: France is likely to divert its own military's production order for Rafale fighter jets to meet India's "urgent" requirement for 36 warplanes.  French defence sources said modalities are being worked out and nitty-gritty will be finalised once Indian and French government start talking in detail.
Dassault Aviation, the manufacturer of Rafale jets, already has an order for 24 aircraft by Egypt which has to be delivered as soon as possible. Then there is the French military order itself.
"Since India wants 36 fighter planes on an urgent basis, one of the options would be to divert the planes that are under production for French military to India. These planes can be fine-tuned to Indian requirements," the sources said.  
Prime Minister Narendra Modi and French President Francois Hollande had last week agreed to conclude an Inter-Governmental Agreement for supply of the aircraft on terms that would be better than conveyed by Dassault Aviation for the 126 Medium Multi-Role Combat Aircraft (MMRCA) tender.  
The delivery would be in time-frame that would be compatible with the operational requirement of IAF, and the aircraft and associated systems and weapons would be delivered on the same configuration as had been tested and approved by IAF, and with a longer maintenance responsibility by France, a joint statement had said.
Defence Minister Manohar Parrikar has said that the 36 fighter planes would be inducted in the next two years.  One of the problems facing the Dassault Aviation is the production rate of the jets. At present, reports suggest it has a capacity to make about 12 aircraft per annum. This is in line with the French orders that they have in hand.  
"Dassault will have to ramp up its production capacities to meet both Egypt and Indian orders at the same time. While they will obviously do it, it cannot happen overnight," sources said, pointing out that various other firms like Thales are also part of the Rafale project.  
French military already have three squadron of Rafale fighter jets. The French Navy too have placed an order but the sources did not confirm the total number they have signed up for.