Fresh tremors rock West Bengal , Bihar, Sikkim
New Delhi:The aftershocks of the disastrous earthquake which shook the Himalayan nation of Nepal on April 25th continue even today. In a fresh series of aftershocks, tremors were felt in three states – Bihar, West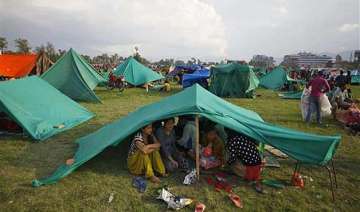 India TV News Desk
April 27, 2015 19:47 IST
New Delhi:The aftershocks of the disastrous earthquake which shook the Himalayan nation of Nepal on April 25th continue even today. In a fresh series of aftershocks, tremors were felt in three states – Bihar, West Bengal and Sikkim.
According to preliminary reports, tremors were felt in parts of North Bengal and the adjoining state of Sikkim. The earthquake was measured 5.1 on Richter scale and it took place around 6.06 pm.
Meanwhile reports are also coming in that various parts of Bihar  were also affected by the recent aftershocks. The affected areas in the state are Bhagalpur, Nalanda and Muzaffarpur.
As many as eight aftershocks were felt in Bihar in the past 24 hours since a high intensity earthquake measuring 7.9 on the Richter Scale rocked Nepal, a MET official said .
A fresh tremblor measuring 5.1    on the Richter Scale was felt in Jalpaiguri, Darjeeling and some other districts across West Bengal this evening.
The fresh earthquake struck at 6.06 pm and its epicentre was located at latitude 26.7 degree north, longitude 88.1 degree east on the Nepal-India border area, according to Gopinath Saha, the head of the Meteorological Department of Sikkim. The fresh tremor also hit North Dinajpur, South Dinajpur and Murshidabad districts.
Three personswere killed and 69 others were injured in Saturday's 7.9 magnitude temblor which hit many districts of West Bengal.
Yesterday also tremors were felt twice in Jalpaiguri, Darjeeling and in different parts of state at noon and at night, triggering panic among people who ran out of homes and gathered on the streets.