Romancing Urdu: From China, with love
New Delhi: For 75-year-old Chinese poet Zhang Shixuan, composing verses in Urdu is a passion and over the past five decades his love for the language has grown manifold.The couplets he recited at the 17th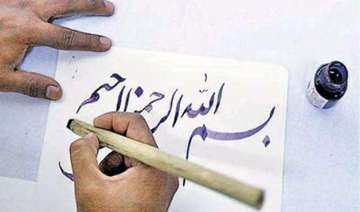 PTI
April 05, 2015 12:48 IST
New Delhi: For 75-year-old Chinese poet Zhang Shixuan, composing verses in Urdu is a passion and over the past five decades his love for the language has grown manifold.
The couplets he recited at the 17th annual Jashn-e-Bahaar mushaira here on Friday evinced much interest among those present at the event.
"Toot jaata hai qalam, harf magar rehta hai, paaon chalte hain magar naqsh thair jaata hai (The pen breaks but words stay, feet keep moving but their impressions remain)," read one of them.
"It was in 1963, I was in the third year of my graduation when I was told by the government to study Urdu as China wanted to establish closer ties with India and Pakistan. Initially I felt bad as journalism was my passion but as I started studying the language, I fell in love with it," Zhang told PTI in an interview here.
Zhang, who has adopted the pen name Intekhab Alam which is the Urdu translation of his Chinese name, said he studied the language for four years with a group of seven students that also included a girl whom later he married.
The group studied Urdu at the Beijing Broadcasting Institute now known as the Communication University of China. Zhang later went on to become the editor of China Pictorial monthly magazine's Urdu edition.
Zhang, who has participated in the annual Jashn-e-Bahaar mushaira four times, said, "When I got a complete grip over the language, I started composing verses in Urdu. What started as a compulsion became a passion later and I fell in love with Urdu."
He wrote his first 'nazm' (Urdu poem in rhyming verse) in 1979 saddened by the execution of then Pakistan Prime Minister Zulfiqar Ali Bhutto.
From 1967-1999 he worked for the China Pictorial's Urdu edition and was its editor for the major part of the period. The magazine closed down a year before his retirement due to financial constraints.
China Pictorial was first published in 1950. It was one of four publications allowed during the Cultural revolution in China. In addition to the Chinese edition, it was published in many languages including Hindu, English, Urdu, Japanese, French, German, Russian among others. Urdu edition was discontinued.
Asked if Urdu could become a link language like English or some of the other international languages, he said "Urdu in the present times is lagging behind as a working language for economic gains so it is important to harness and nurture the language with love. Only love for the language can help it in spreading it to different corners of the world.