Gang war outside Mumbai beer bar, one killed
Mumbai, Aug 1: One person, Vijay Pujari was killed and another of his associates was injured in firing at a beer bar in Khar East on Wednesday night. The incident took place at around 11:40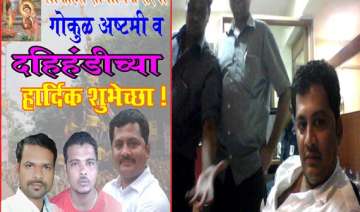 India TV News Desk
August 01, 2013 9:56 IST
Mumbai, Aug 1
: One person, Vijay Pujari was killed and another of his associates was injured in firing at a beer bar in Khar East on Wednesday night.
The incident took place at around 11:40 pm in Sharda beer bar. Vijay Pujari and three of  his friends were having alcohol, when Rahul Sharma alongwith his 10 associates came and a brawl ensued, said Namdeo Chavan, DCP Zone 8, Mumbai.
During the fight, Rahul fired at Vijay Pujari, who fell down.   Rahul's men fired several rounds and attacked people with a chopper, as other customers fled.
Vijay was taken to V N Desai hospital, where h was declared dead, said Khushal Sakpale, ACP, Mumbai police.
A running feud has been going on between the two gangs for the last on year and last night's attack was an effort by the Rahul gang to exercise domination in the locality.
Nobody has been arrested so far. There are several criminal cases pending both against Vijay Pujari and Rahul, police said.