Ghazal enthrals audience at Kolkata Book Fair inauguration
Kolkata: Book lovers at the inaugural ceremony of the 39th Kolkata International Book Fair yesterday witnessed a unique fusion of Welsh folk and Indian ghazal.A team of six singers and musicians led by Mumbai singer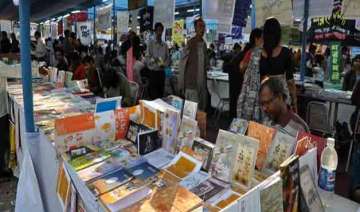 PTI
January 28, 2015 7:34 IST
Kolkata: Book lovers at the inaugural ceremony of the 39th Kolkata International Book Fair yesterday witnessed a unique fusion of Welsh folk and Indian ghazal.
A team of six singers and musicians led by Mumbai singer Tauseef Akhtar and Welsh singer-songwriter Gwyneth Glyn presented a blend of the two ancient traditions in presence of West Bengal Chief Minister Mamata Banerjee and other dignitaries.
Accompanied by harp, tabla, guitar and a harmonium, the group, Ghazalaw, put together an exquisite collaboration.  
Akhtar and Glyn came together to explore their musical affinity with support from Wales Art International in 2012 and in six days, Ghazalaw was born in Roundhouse, St Hilary.  
Welsh harpist Georgia Ruth joined Akhtar and Glyn to work on the music of the group with Ashih Jha (on tabla), Manas Kumar (violin) and Sanjay Das (guitar).  
Ghazalaw had performed in Mumbai, Delhi and featured at the Indiearth Exchange in Chennai.
In 2013, the group had recorded their first album Ghazalaw and would be performing at the Ghazal Bahaar Festival in Mumbai on January 31.