Go green: Railways starts first CNG-powered train service
New Delhi: Railway Minister Suresh Prabhu on Wednesday launched the country's first passenger train powered by CNG (compressed natural gas) on the Rewari-Rohtak section of the Northern Railway.The move assumes significance as it is the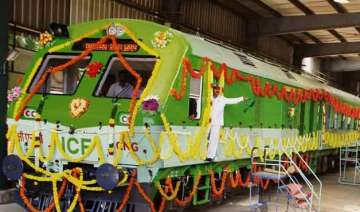 India TV News Desk
January 15, 2015 8:55 IST
New Delhi: Railway Minister Suresh Prabhu on Wednesday launched the country's first passenger train powered by CNG (compressed natural gas) on the Rewari-Rohtak section of the Northern Railway.
The move assumes significance as it is the first time that a passenger train is powered by an alternate fuel source. The new passenger train engine has the capability to run on both diesel and CNG.
Initially, the train will only consume 20 per cent CNG during the 81-km distance while the rest of the power will be derived from diesel. Railways have modified the 1,400 HP engine to run on dual fuel through fumigation technology.
Gradually, the CNG usage will be increased to around 50 per cent.
The daily train service between Rewari and Rohtak will have a capacity of carrying 770 passengers in six coaches.
The train comprising of two power cars and six car coaches has been manufactured by Integral Coach Factory at Chennai with the CNG conversion kit being supplied by Cummins.
"Not only will this step reduce the carbon footprint of the Railways, it will also provide capacity to use a cheaper alternate fuel source in the future," a Ministry of Railways official said.
Prabhu has given emphasis on the use of alternative fuel in train operation including use of solar and wind power to reduce dependence on conventional energy.