Google celebrates International Women's Day with a video-based doodle
New Delhi: Google's creative team have created a special doodle to celebrate international women's day 2014.In the doodle, the Google logo features a play button in the second 'O' of the logo, which also depicts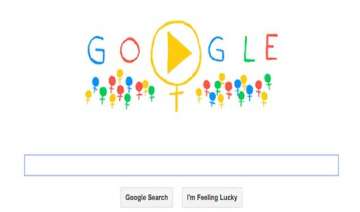 India TV News Desk
March 08, 2014 10:02 IST
New Delhi:
Google's creative team have created a special doodle to celebrate international women's day 2014.
In the doodle, the Google logo features a play button in the second 'O' of the logo, which also depicts the Venus symbol for women - a small circle, with a cross below it. The Google logo in turn is surrounded by more Venus symbols. Hitting the play button causes a YouTube video to open up.
The video features over 100 women, including the President of Lithuania, the brave Pakistani education activist, and an ever-curious explorer and it also features music by Belgian group Zap Mama.
Today's doodle is Google's eighth doodle on International Women's Day. The company first created a doodle on the occasion in 2005. And then consecutively since 2009, the search giant marks the occasion with a doodle.