Gorkhaland: Mamata gives ultimatum, GJM warns of bloodshed
Kolkata/Darjeeling, Aug 11;  The West Bengal government and the GJM seemed on a confrontation course Saturday with Chief Minister Mamata Banerjee giving a 72-hour ultimatum to end the separatist movement or "face strong action" while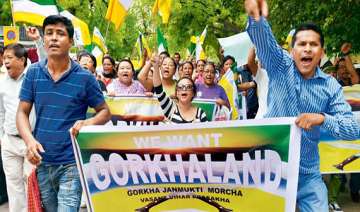 IANS
11 Aug 2013, 7:55:43 AM IST
Kolkata/Darjeeling, Aug 11
;  The West Bengal government and the GJM seemed on a confrontation course Saturday with Chief Minister Mamata Banerjee giving a 72-hour ultimatum to end the separatist movement or "face strong action" while the Gorkha outfit hit back with threats of a "bloodbath".
Gorkha Janmukti Morcha (GJM) president Bimal Gurung demanded Banerjee withdraw her ultimatum, and warned of "bloodshed" and a "people's curfew" if she stuck to her stand, even as life remained stalled in the three hill sub-divisions - Darjeeling, Kurseong and Kalimpong - of Darjeeling district for eight days due to the shutdown called to press for a Gorkhaland state.
"I give them 72 hours to withdraw their shutdown. We have tolerated for eight days enough is enough. I cannot tolerate the whole state suffering for the political interests of a few," Banerjee told media persons in Kolkata.
"If they do not withdraw the shutdown, we will be compelled to take strong action... when required we have to take strong medicines," she said citing a Calcutta High Court directive seeking prevention of forcible shutdown.
Banerjee said she was all for democratic agitation, but opposed to shutdowns and other such disruptive methods.
In a veiled warning to the top GJM leadership, she said anybody trying to obstruct the state's development, will face the music, and accused the party of using money to keep alive its agitation.
She said her government was open for dialogues with the GJM provided it withdrew the shutdown first.
With Gurung having resigned as the chief executive of the Gorkhaland Territorial Administration (GTA) - an autonomous and elected hill development council - Banerjee said the "next man" will be asked to take over.
She also warned "some central politicians" not to indulge in the politics of divide and rule, and asked central agencies "not to interfere", dubbing the demand for a separate state as unreasonable.
Soon after, Gurung went hammer and tongs at Banerjee.
"We have heard that Mamata has given a 72-hour ultimatum and will use police to withdraw the shutdown. This is not right. Lakhs and lakhs of people will hit the streets. If she wants to pursue her politics by killing people, then we are ready," he said in Darjeeling.
"We will go ahead with our movement undeterred. If anybody has recourse to force, then there will bloodshed and the responsibility for that will be on Mamata," Gurung said.
"I also want to warn the centre that whatever happens now, the sole responsibility for that will be on the Bengal government," he said.
Asking Banerjee to withdraw her ultimatum, Gurung said the GJM will enforce a people's curfew in the region.
"She will have to take back her ultimatum. Otherwise we will impose public curfew here. Not a single person will come out on the roads. Everybody will remain indoors. Let her do what she wants. But we will not waver on our aim, our demand of Gorkhaland," he said.
Meanwhile the administration continued its crackdown on the movement arresting Narayan Pradhan, president of GJM Darjeeling town committee. Police have already nabbed Anit Thapa, a close aide of Gurung.
So far nearly 200 GJM supporters, activists have been arrested ever since the Hills stir started following the centre's green light to a separate Telangana. There has also been two self immolation bids by Morcha activists with one of them dying.
The government has also blocked the services of major cable TV operators and deployed security personnel including those from the centre to ensure peace and order.
The Gorkhaland movement for a separate state to be carved out of parts of Darjeeling and its neighbouring Jalpaiguri district - has left many dead over the past two decades, besides affecting the region's economy based on tea, timber and tourism.