Delhi government recommends Ryan International student's death case to CBI
New Delhi: Following the demand by the deceased Ryan International student Devansh Kakrora's parents, the AAP government today recommended a CBI investigation into the case of the mysterious death of the six-year-old, who was found dead in a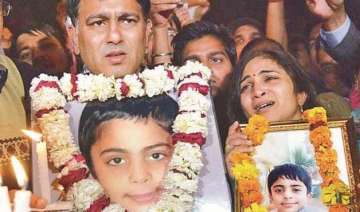 India TV News Desk
February 08, 2016 22:55 IST
New Delhi: Following the demand by the deceased Ryan International student Devansh Kakrora's parents, the AAP government today recommended a CBI investigation into the case of the mysterious death of the six-year-old, who was found dead in a septic tank on the campus on January 30.
After the magisterial enquiry report revealed some serious lapses on part of the school authorities, the Delhi government decided to the hand over the case to the Central Bureau of Investigation.
"The magisterial inquiry pointed to the suspicious conduct of the school authorities and raised further queries. Therefore, it was decided by the government that, in the interest of justice, it will be appropriate to refer the case to the CBI for investigation," a Delhi government statement said.
The magisterial report said, "Though the school was functioning on January 30, despite it not being a normal working day, there was not a single person to administer medical aid in the medical room, despite continuous announcement having been made in this regard."
To avoid recurrence of such incidents in schools, the Delhi government also ordered a safety audit of all private and government schools in the national capital, to be completed in one month, the statement said.
Ramhat Meena, the father of Devansh, told IANS earlier today that his son was "murdered" and demanded a CBI investigation.
"I am not satisfied with the Delhi Police probe. They arrested five people under a bailable section (of the law) whereas my son was murdered," a distraught Meena said.
Delhi Police on Thursday arrested school principal Sandhya Sabu (50), class teacher Minakshi Kapoor (38), reverse osmosis plant operator Yogesh Kholiya (23), maintenance incharge Puran Singh Bisht (65) and gardener Ram Narayan (44) on charges of causing death due to negligence.
Meena met Delhi Police Commissioner B.S. Bassi on Monday and requested him to register a case of murder.
"I am still unable to understand what is happening. Neither the Delhi government nor the police have taken any satisfactory action in the case. It has been almost 10 days," Meena told IANS.
Meena now plans to meet Delhi Chief Minister Arvind Kejriwal to seek his intervention in the case.
(With IANS inputs)