Government may introduce new civil aviation policy by May 15
New Delhi: The government plans to put in place the much-awaited civil aviation policy by the middle of next month, Minister of State for Civil Aviation Mahesh Sharma said today.According to an official, the Civil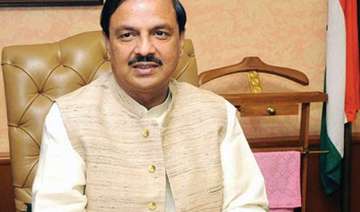 PTI
April 09, 2015 19:50 IST
New Delhi: The government plans to put in place the much-awaited civil aviation policy by the middle of next month, Minister of State for Civil Aviation Mahesh Sharma said today.
According to an official, the Civil Aviation Ministry has already circulated the proposed norms for overseas operations by Indian airlines for inter-ministerial consultations.
"The ministry has sent its proposed revised norms for the domestic carriers wishing to fly abroad for inter-ministerial consultations, before sending it to the Cabinet for approval," the official said.
Sharma, however, said since the policy deals with several important issues including new norms for international operations by domestic carriers and regional connectivity, widespread consultations with all stakeholders are necessary.
"We strive to put in place the new aviation policy before May 15," Sharma told reporters on the sidelines of an event here.
The Centre had in November last unveiled the Draft Civil Aviation Policy and circulated it among all stakeholders.
The draft policy proposes to enhance regional air connectivity, develop six major metro airports as international hubs, create more airports through PPP mode, rationalise jet fuel cost, promote air cargo, maintenance, repair and operations (MRO) and helicopter operations, and improve passenger facilitation.
"We propose to bring this policy only after we discuss with all the stakeholders because the policy has several issues like the '5/20 Rule', the route dispersal guidelines and also the inter-connectivity," Sharma said.
As part of the draft policy, the government plans to revise a rule which require local airlines to have at least five-year operational experience and a fleet of 20 aircraft (popularly known as '5/20 Rule') to fly overseas to address the imbalance between domestic and foreign carriers.
Pitching for a liberal policy on the issue, Civil Aviation Minister Ashok Gajapathi Raju had last week said that such rules (5/20) need to be done away with.
"I have not seen such rules anywhere in the world. Such rules are pushing back this sector as well as the economy. The centre government's job is to promote Indian carriers. Thus, this rule has to go," the minister had said.