Government to acquire British-era building in Shimla
Shimla, July 6; The Himachal Pradesh government has decided to take over a grand heritage building in this erstwhile summer capital of the British Raj, fearing it might be lost otherwise.The cabinet headed by Chief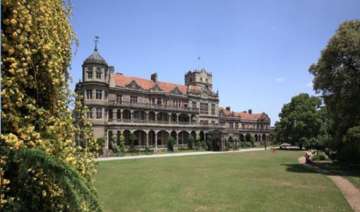 IANS
July 06, 2013 13:17 IST
Shimla, July 6;
The Himachal Pradesh government has decided to take over a grand heritage building in this erstwhile summer capital of the British Raj, fearing it might be lost otherwise.
The cabinet headed by Chief Minister Virbhadra Singh Friday decided to take the initiate to acquire Bantony Estate near Scandal Point on Shimla's famous Ridge, an official spokesperson told IANS.
Bantony, located in the heart of town, was the summer palace of the erstwhile Maharaja of Sirmaur, whose coat-of-arms can still be seen in the cast-iron railing in front of the house.
The property was purchased by a London-based Indian businessman in 2011 to give way to an ultra-luxurious spa. The Bharatiya Janata Party then ruled the state.
The Congress, now the ruling party in the state, had alleged that top political functionaries in the government were involved in illegal transactions in connection with this property.
Like many buildings in Shimla, Bantony's architectural style is somewhat eclectic -- part mock-Tudor, part chalet and crowned with sloping roofs with mini-towers. The architect is said to be T.E.G. Cooper.
Before its construction in 1880, the place had a rickety cottage belonging to Captain A. Gordon and housing some army officers.
Since 1957, the building, now in an advanced state of decay, had been the headquarters of the state police. It was formally vacated this year after a court case.
According to the municipal corporation, due to inadequate repairs, lack of financial resources of the owners and limited understanding of heritage preservation, the building is in a poor state.
The corporation has warned that if measures were not taken to preserve the structure, Bantony Estate would soon be consigned to history books.