Government to track toilet use with tablets
New Delhi: In order to check whether people are using toilets as part of his cleanliness drive Prime Minister Narendra Modi will launch a nationwide online programme from next month. Officials-in-charge will use mobiles and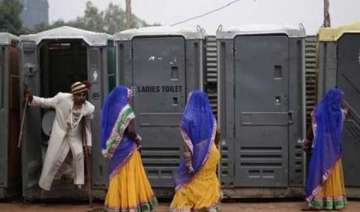 India TV News Desk
January 01, 2015 9:39 IST
New Delhi: In order to check whether people are using toilets as part of his cleanliness drive Prime Minister Narendra Modi will launch a nationwide online programme from next month. Officials-in-charge will use mobiles and tablets to check whether toilets are being used in rural India or not. The outcome will be uploaded on the website.  
PM Modi has consistently dwelled on the importance of sanitation and use of toilet, especially for women who end up suffering from various ailments. He has vowed to solve the problems during his tenure of five years.
The government has doubled spending on a toilet building programme and requested financial donations from some of the country's largest companies to help.
"Earlier, the monitoring was done only about the construction of toilets, but now the actual use of toilets will be ascertained," the government said in a statement on Wednesday.