In a first, govt appoints woman IPS officer as head of Sashastra Seema Bal
New Delhi: In a first, the government has appointed senior woman IPS officer Archana Ramasundram as the head of the paramilitary force, Sashastra Seema Bal (SSB).58-year-old Archana is a Tamil Nadu-cadre IPS officer. She has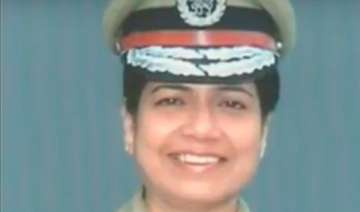 India TV News Desk
February 02, 2016 12:00 IST
New Delhi: In a first, the government has appointed senior woman IPS officer Archana Ramasundram as the head of the paramilitary force, Sashastra Seema Bal (SSB).
58-year-old Archana is a Tamil Nadu-cadre IPS officer. She has been appointed as the Director General of the SSB on Monday.
According to an order issued by Department of Personnel and Training (DoPT), currently Special Director, National Crime Records Bureau, has been appointed to the post till the date of her superannuation September 30, next year.
Archana was in news in 2014 over her appointment as Additional Director in the CBI. Her appointment was also challenged in the Supreme Court after which she was moved to the NCRB as its chief.
The SSB chief's post fell vacant on January 31, after then DG BD Sharma retired. According to reports, Archana is understood to have sought time to take over her new job, as she is the main organiser of an ongoing biometrics conference in Bhopal.
The SSB is entrusted with guarding the country's frontiers with Nepal and Bhutan. There are five paramilitary forces-- SSB, Central Reserve Police Force (CRPF), Border Security Force (BSF), Central Industrial Security Force and Indo Tibetan Border Police-- and none has ever had a woman chief.
Besides her, IPS officers--K Durga Prasad and KK Sharma--have been appointed Director Generals of CRPF and BSF, respectively. They will take over after the incumbent chiefs of these forces retire at the end of this month.
Prasad, a 1981 batch IPS officer of Andhra Pradesh cadre, was in 2014 unceremoniously removed as chief of the Special Protection Group, which provides security to the Prime Minister, former Prime Ministers and their family members, during Prime Minister Narendra Modi's trip to Nepal to attend the Saarc summit.
He was in January last year appointed Special Director General of the CRPF, the force entrusted with multiple duties in the internal security domain including, anti-Naxal operations.
KK Sharma is currently Additional Director General, BSF, which guards the country's border with Pakistan and Bangladesh.
MK Singla, a 1982-batch IPS officer of Kerala cadre, has been appointed Special Secretary (Internal Security) in Ministry of Home Affairs. He is at present serving as Special DG (West) in the BSF. In his new posting, Singla will be entrusted with the task of dealing with matters related to policing, law and order and analysing threats from terror groups, Maoists and other anti-national forces.
Both Singla and Durga Prasad will hold the post till their retirement, i.e. February 28, 2017. Sharma will hold the post till September 30, 2018, when he superannuates.
ARK Kinni has been appointed as Director NCRB in place of Ramasundram. Kinni, a 1981 batch IPS officer of Bihar cadre, is currently Special DG in Bureau of Police Research and Development (BPR&D).
All these appointments were approved by the Appointments Committee of Cabinet (ACC) headed by the Prime Minister.
The ACC has approved Kinni's appointment by temporarily upgrading the post of Director, NCRB to that of DG-level upto the date of his superannuation i.e. November 30, 2017.
With PTI Inputs