Govt official booked in DA case
Jammu: Jammu and Kashmir State Vigilance organization today booked a government official for possessing assets disproportionate to his known sources of income."Ghulam Mohi-ud-Din, a senior assistant in the office of  Assistant Director, Consumer affairs and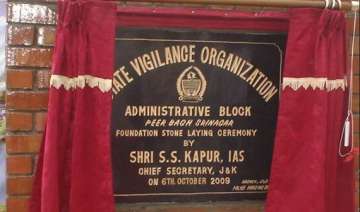 PTI
January 01, 2015 20:48 IST
Jammu: Jammu and Kashmir State Vigilance organization today booked a government official for possessing assets disproportionate to his known sources of income.
"Ghulam Mohi-ud-Din, a senior assistant in the office of  Assistant Director, Consumer affairs and Public Distribution Department, Jammu has been booked under various sections for having accumulated huge movable and immovable assets disproportionate to his known legal source of income," a spokesman of the SVO said here today.
He said during the course of investigations and the house search of the accused, some incriminating documents were recovered which have been seized for further investigations.