Now green clearance online: Prakash Javadekar
New Delhi: In order to bring more transparency, environment clearances can now be sought online, Prakash Javadekar, Minister of State for Environment and Climate Change, today said."The online service system for TOR (Terms of Reference)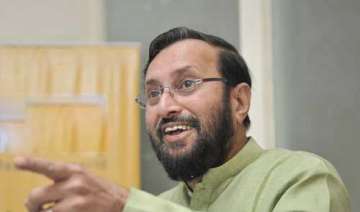 PTI
June 05, 2014 18:06 IST
New Delhi:
In order to bring more transparency, environment clearances can now be sought online, Prakash Javadekar, Minister of State for Environment and Climate Change, today said.
"The online service system for TOR (Terms of Reference) and environment clearance proposal is operational from today.
For 25 days, submissions can be done both online and in the form of hard copies.
"But from July 1, it will be fully online. That is our beginining of transparency. One need not visit the office but submit their proposals online," Javdekar said, adding that he had, while taking charge of the ministry, announced that the system would be made online in order to bring more transparency.
The Minister was speaking on the sidelines of a function organised to mark the World Enviornment Day.