Gujarat govt inflated revenue surplus figure in 2013-14: CAG
Ahmedabad: The Comptroller and Auditor General (CAG) has slammed the Gujarat government for violating norms of accounting standards by showing revenue expenditure of more than Rs 1,600 crore as capital expenditure and thus inflating the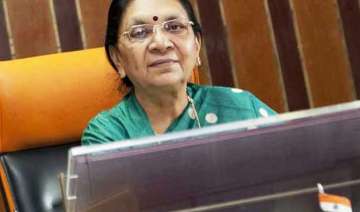 PTI
April 03, 2015 19:03 IST
Ahmedabad: The Comptroller and Auditor General (CAG) has slammed the Gujarat government for violating norms of accounting standards by showing revenue expenditure of more than Rs 1,600 crore as capital expenditure and thus inflating the revenue surplus in 2013-14.
The BJP government in the state violated the Indian Government Accounting Standard (IGAS)-2 and tried to show more revenue surplus (Rs 4,717 crore in 2013-14), it says.
In it's audit report for 2013-14 on the state finances tabled in Gujarat Assembly, the CAG notes that "Gujarat had a revenue deficit during 2009-11 which turned into revenue surplus during 2011-12 to 2013-14. The state had a revenue surplus of Rs 4,717 crore in 2013-14."
As per the rules, grant-in-aid and subsidies should be included in revenue expenditure. "However, the state government wrongfully booked Rs 1,633.5 crore in respect of grant-in aid and subsidies as capital expenditure.
This resulted in under-statement of revenue expenditure and over-statement of the revenue surplus," the report says.
"Also in 2012-13, amounts of Rs 881.3 crore and Rs 207.27 crore were disbursed as grant-in-aid and subsidy, respectively, under various capital major heads of expenditure. This was reported in CAG report for the year ended on March 2013," the auditor has pointed out.
The state finance department had assured the CAG in December 2014 that all the departments had been instructed to follow IGAS-2 norms in preparation of budget estimates for expenditure, it adds.