Gurgaon girl consumes poison outside Tehsildar office
Gurgaon, Apr 24: Poonam, an 18-year-old girl from Gurgaon's Laxman Vihar, tried to commit suicide on Tuesday outside the district tahsildar's office by consuming poison.  She was rushed to the Gurgaon general hospital, where she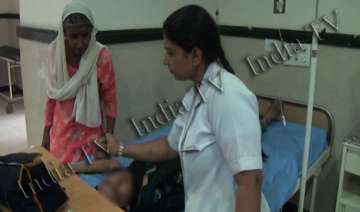 India TV News Desk
April 24, 2012 22:27 IST
Gurgaon, Apr 24:
Poonam, an 18-year-old girl from Gurgaon's Laxman Vihar, tried to commit suicide on Tuesday outside the district tahsildar's office by consuming poison.  
She was rushed to the Gurgaon general hospital, where she is undergoing treatment.  
Poonam had complained to the District Deputy Commissioner that her uncle's family had duped her of money after selling four canal of land in Dhankote village for Rs 30 lakhs.  
Poonam had alleged that her uncle's family gave her only Rs 5 lakhs, whereas she was entitled to Rs 15 lakhs.  
The Deputy Commissioner had directed the Tahsildar to cancel the land sale registration if there was any irregularity, but the latter turned Poonam out from his office.  
To register her protest, Poonam came to the Tahsildar office and consumed poison right outside his office.