Hang Afreen's Father, Demand Bangalore Muslim Leaders
Bangalore, April 12 : Prominent Muslim leaders in the city have demanded death sentence for the father of Baby Afreen, the three-month old  infant who died a brutal death in hospital on Wednesday. " I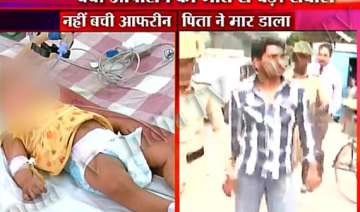 PTI
April 12, 2012 8:45 IST
Bangalore, April 12
: Prominent Muslim leaders in the city have demanded death sentence for the father of Baby Afreen, the three-month old  infant who died a brutal death in hospital on Wednesday.
" I wish we could stone him to death", said Imam Abdul Khader Shah of Jumma Masjid, Bangalore's oldest mosque, reports Bangalore Mirror. The man  Umar Farooq had brutally killed his three-month-old daughter for not being a boy.
The imam said; "He is what we call a zaalim, the most cruel of them all,  to kill an innocent child. "According to Sharia Law, death by stoning (sansar) is permitted only for adulterers.
"But I wish we were allowed to stone him to death.  He should know the pain of burning a young child with a cigarette when a stone hits him.
"As the Sharia Law stands, he can be whipped. And this should be carried out so that nobody dares to hurt a child again.
"Children are God's gift and we have to accept them irrespective of gender. This man not only killed a child, but also ruined the lives of two women.
"How long can we stay silent and watch women being treated this way", the Imam asked.
Mufti Ashraf Ali, who heads the Darul Uloom Sabeelur Rashadh Arabic College, echoed the Imam's sentiments.
"Even animals protect their children. There can be no forgiveness for this crime.
"What the religious law says is another matter. There are rules set by the administration too.  Implement them stringently.
"Give him the harshest punishment, even the death penalty. We have made technical advancements today to the point where we can murder a child in its mother's womb.
"But that is not what any religion teaches. Why is the administration not being strict to save our daughters", he asked.
Senior Congress leader and former minister Roshan Baig  says; "What is astonishing is that the moulanas and religious leaders who are quick to issue fatwas on every other matter have kept silent.
"Why are they not protesting now?  Is a child's innocent life not worth it ? Prophet Mohammed's Islam spoke out against the inhuman practice of burying girls alive in Saudi Arabia in those times.
"What is this we are practising now? Our community needs to take up the responsibility of creating awareness about the importance of keeping our children safe whether they are girls are boys.
"We are screaming about the decreasing sex ratio in Punjab,Haryana and other states and yet, our girl child is not safe in her own home", he said.
The senior politician said that every platform needed to be used to create awareness.
"Religious heads should use this Fridays sermon to condemn the incident.
"When I return to Bangalore, I will talk to Imams of all the major mosques and schools of thought about making this a topic of discussion to educate people.  As for the father, he should be hanged and made an example of", he said.
Shantinagar MLA N A Harris, who has a schoolgoing daughter, cannot believe it.
"In our community,children are given a lot of respect.  As a father, I am still in shock .It is the cruelest thing any human being can do. He needs to be hanged to death", he said.