Haryana to increase kitchen capacity under mid-day meal scheme
Chandigarh, July 21: The Haryana government has issued directions to increase capacity of kitchens and stores and purchase proper storage containers for ongoing mid-day meal scheme in the state's schools.Speaking at Jhajjar on Sunday, State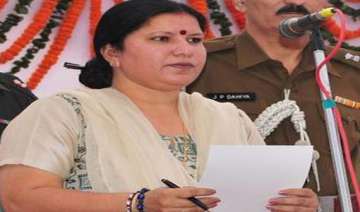 PTI
July 21, 2013 19:19 IST
Chandigarh, July 21:
The Haryana government has issued directions to increase capacity of kitchens and stores and purchase proper storage containers for ongoing mid-day meal scheme in the state's schools.
Speaking at Jhajjar on Sunday, State Education and Women and Child Development Minister Geeta Bhukkal said mid-day meal scheme is being implemented efficiently and children are being provided with balanced diet in all government and government-aided schools. She herself was monitoring the scheme by visiting schools.
"As many as 16 dishes have been included in the menu and anganwadi centres. Initially it consisted of only two or three dishes," she said. Directions have been issued to Education and Women and Child Development department officials to continuously keep a tab on food items being provided under mid-day meal scheme and to receive food grains from Hafed and Food Corporation of India after properly checking them, Ms. Bhukkal said.
School management committees would also check the quality of mid-day meals, she added.