Heavy rains in U'khand; CM forced to cancel Rudraprayag tour
Dehradun, Jul 19: Intermittent rainfall and inclement weather today forced Uttarakhand Chief Minister Vijay Bahuguna to cancel his tour of flood-affected areas in Rudraprayag district even as the weather office issued an alert for heavy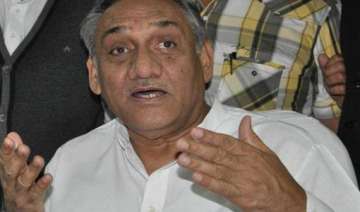 PTI
July 19, 2013 20:21 IST
Dehradun, Jul 19:
Intermittent rainfall and inclement weather today forced Uttarakhand Chief Minister Vijay Bahuguna to cancel his tour of flood-affected areas in Rudraprayag district even as the weather office issued an alert for heavy showers in the state over 48 hours.
Heavy rainfall was reported in various parts of the state, especially in the Kumaon and Gadhwal regions, leading to landslides and rising water levels in several rivers. 
Showers were reported in the Udham Singh Nagar and Champavat districts in Kumaun region as well as in Dehradun.  Separate instances of landslides triggered by rainfall in the Munsyari area of Pithoragarh district is learnt to have caused damage to six houses in two villages. 
The rains have seen all major rivers flowing through the state register an increase in water levels, including Ganga, Yamuna, Kosi and Sharda.
"We are consistently monitoring the water levels and are on an alert to deal with any eventuality," district authorities said today.
Bahuguna was due to visit the town of Guptkashi and nearby villages today and take stock of the ongoing relief work.  Having been foiled by rainfall today, the CM may visit the affected areas tomorrow, sources said.
Meanwhile, a team of officials from various Union ministries headed by Joint Secretary (Home), Lokesh Jha, met Uttarakhand chief secretary Subash Kumar today to discuss the losses caused by last month's natural disaster in the state.  The 11-member body, which will stay in the state till July 20, will take stock of the damages and submit its report to the inter-ministerial panel formed by the Union government.