High-speed AC trains to link Delhi with Meerut, Panipat, Alwar
New Dlhi, Jul 12 : The Union Cabinet on Thursday approved an ambitious plan to run high-speed trains between Delhi and its satellite towns of Meerut, Panipat and Alwar.The cabinet approved the setting up of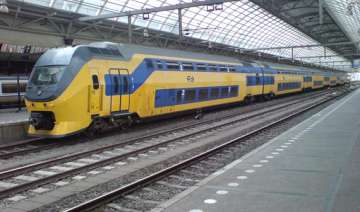 India TV News Desk
July 12, 2013 7:38 IST
New Dlhi, Jul 12 :
The Union Cabinet on Thursday approved an ambitious plan to run high-speed trains between Delhi and its satellite towns of Meerut, Panipat and Alwar.
The cabinet approved the setting up of a company — National Capital Region Transport Corporation (NCRTC) — to execute the Rs 78,000 crore Rapid Rail Transit System (RRTS) that will cut travel time by half between Delhi and the three NCR towns.
The trains will cover a distance of 90 km between Delhi and Meerut in 63 minutes, Delhi and Alwar (188 km) in 117 minutes and Delhi and Panipat (109 km) in 61 minutes.
This will be the first phase of the RRTS that is expected to become operational by 2017.
In the second phase, five other corridors would be connected linking 16 towns with Delhi.
The initial seed fund of Rs 100 crore will be shared. While the Centre would pay 50 per cent of the cost, Delhi, Haryana, Uttar Pradesh and Rajasthan will share the rest.
New broadgauge tracks would be laid in Delhi and its three neighbouring states on which the highspeed, air-conditioned trains would run.
NCRTC will be set up within two months and its mandate includes designing, developing, implementing, financing, operating and maintaining RRTS to provide comfortable and fast transit between NCR towns.
While a majority of the track in Delhi would be underground, in the other states it would be a mix of elevated, on ground and underground.
Initially, each of the trains would have six coaches, which will later be upgraded to include nine coaches.
In Delhi, multi-modal stations will be provided that will integrate the RRTS with Delhi Metro and DTC for faster dispersal of passengers.
Feeder services would be provided at the respective stations to help with passenger movement.