Hindu Mahasabha plans bike rally for Nathuram Godse
Lucknow: The Hindu Mahasabha members plan to take out a 'Jan Jagran Bike' rally in Lucknow on Thursday to make people "aware" about why Nathuram Godse assassinated Mahatma Gandhi.They will distribute pamphlets citing reasons to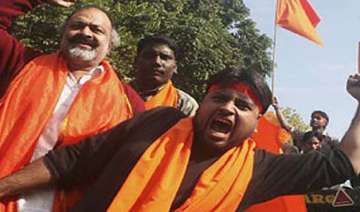 India TV News Desk
January 07, 2015 10:08 IST
Lucknow: The Hindu Mahasabha members plan to take out a 'Jan Jagran Bike' rally in Lucknow on Thursday to make people "aware" about why Nathuram Godse assassinated Mahatma Gandhi.
They will distribute pamphlets citing reasons to the assassination.
Hindu Mahasabha members will perform a 'bhumi pujan' at Bhaptamau village during the rally. Following the ceremony, a statue of Nathuram Godse will be erected on the site.
"The bike rally will begin from Hindumahasabha Bhawan at Khurshed Bagh and pass through Charbagh, Alambagh, Chowk, Aminabad and Para localities to reach Bhaptamau" said Kamlesh Tiwari, the Hindu Mahasabha's national working President.
This decision comes almost a month after the organsation was booked for announcing a Nathuram Godse temple in Sitapur. On December 26, the Sitapur district administration had booked over 25 members of Hindu Mahasabha, including Kamlesh Tiwari for breach of peace.
When asked if permission had been sought for the rally, Tiwari said an SMS has been sent to the administration.
 "There is nothing illegal in Godse being eulogized. Has the government or any court of law convicted him of treason charges?" he said.