Hizbul can disrupt Amarnath Yatra in a jiffy, claims Syed Salahuddin
Srinagar, July 7: Pakistan-based United Jehad Council chairman and chief of Hizbul Mujahideen Syed Salahuddin has claimed that his militant group can disrupt Amarnath Yatra in a jiffy, any time it likes, but will not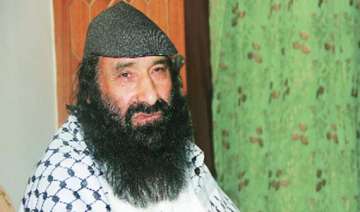 India TV News Desk
July 07, 2013 13:03 IST
Srinagar, July 7
: Pakistan-based United Jehad Council chairman and chief of Hizbul Mujahideen Syed Salahuddin has claimed that his militant group can disrupt Amarnath Yatra in a jiffy, any time it likes, but will not do so to give India a handle.
In an interview to a Kashmir-based news agency CNS, Salahuddin said, "It is an easy task for our Mujahideen to disrupt Yatra in presence of thousands of troopers. But, we do not believe in terrorism.
"We know Intelligence agencies want Yatris to be  attacked as it would justify the human rights violations and killings of innocent Kashmiris," he said adding that in the garb of Amarnath Yatra New Delhi is strengthening its base in Kashmir.
He said there was no  threat to Amarnath Yatra and militants won't attack it.   
Salahuddin criticised th various Hurriyat Conference factions saying disorganization and disorder in Hurriyat Conference is proving disastrous for the ongoing movement in Kashmir.
He said, the separatist leaders have failed to capitalize on Afzal Guru issue.
"Even they (Hurriyat leaders) missed the opportunity in recent Markundal killings. It is absurd that they lack strategy. Conferences, seminars, strikes and statements are not going to deliver goods. It is unity among Hurriyat ranks that would take people out of dilemma," the militant leader said.
Syed Salahuddin said it is absurd that different Hurriyat leaders gave different programmes for the same cause.
"I know they give calls in good faith but it shows how divided these separatist leaders are. Some of our friends give 'Chalo call', another one comes on roads with candles and similarly other ones organize seminar. We cannot attain our objective when we are divided. Time has come that these Hurriyat leaders come on same platform and join hands without wasting time," he said.
Salahuddin said  Taliban may or may not enter India after NATO withdraws from Afghanistan.
"The people of Afghanistan are warriors and they believe in revenge. Who knows they may enter India to avenge the killings of Kashmiris," he said alleging that India supported NATO forces in the killing of innocent Afghan people.
"Pakistan's continuous efforts for friendship with India are not less than adding insult to the injuries of Kashmiris. Pakistan is undermining the love of the people of Kashmir," he remarked.
Salahuddin said Kashmiris consider Pakistan as their lawful representative to raise the issue of Kashmir on all national and international forums.
"Pakistan's government must reassure us that it will not compromise over Kashmir issue," he demanded adding that Kashmiri people have been struggling for their cause of self-determination for the past 65 years and this struggle will not go in waste.
He rubbished the claims of Indian intelligence agencies that Lashkar Toiba is behind every attack in Kashmir.
"Tell us who is in the possession of the weapons snatched by our Mujahideen from Indian Army troopers. Hizb in Kashmir carried every recent attack. India blames LeT for such attacks to defame Pakistan and to make International community believe that the ongoing movement in Kashmir is not indigenous".