Home Ministry Admits Lack of Coordination In Blasts Probe
New Delhi, Jan 24: The Union Home Ministry today acknowledged there was a lack of coordination between Delhi Police and Maharashtra ATS in the probe into last year's serial blasts in Mumbai but downplayed the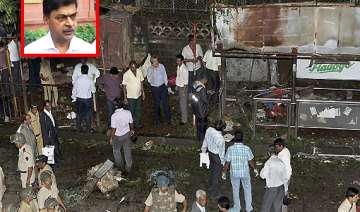 PTI
January 24, 2012 17:38 IST
New Delhi, Jan 24: The Union Home Ministry today acknowledged there was a lack of coordination between Delhi Police and Maharashtra ATS in the probe into last year's serial blasts in Mumbai but downplayed the rift between them. 

Union Home Secretary R K Singh at the same time said he was "very happy" that the Maharashtra Anti Terrorism Squad (ATS) had cracked the 13/7 blast case.

He also said there is a need for a standard operating procedure for inter-state anti-terror operations.

A day after ATS announced a breakthrough, Singh said it had worked out the case on the basis of evidence which will be put through legal procedure.

Singh said in order to bring synergy between various forces, Government has set up the National Counter terrorism Centre(NCTC), which will be made operational soon. 

"Besides this we, will call Directors General of Police of various state police forces for drafting a standard operating procedure for such kind of operations," he added. 

Singh was answering questions from reporters regarding the arrest of two persons including Naquee Ahmed in connection with 13/7 blasts in which 27 people were killed. 

When asked whether competitive politics came in the way of arrest of top terrorists keeping in view the kind of information obtained, Singh said "I had a detailed discussion with ATS Chief (Rakesh Maria) on Saturday. He briefed me about his investigations and the Delhi Police and the IB had already briefed me about their operation, we will get some additional reports".

But, he said the Home Ministry would like to ensure a system whereby different agencies work together rather than separately when they are operating in a particular area. 

Naquee Ahmed was an informer for Delhi Police and Intelligence Bureau and was helping them in nabbing the two 13/7 bombers Waqas and Tabrez besides a prize catch Yaseen Bhatkal.

About the rift, he said "It is true that IB and Delhi police were running an operation where he was the informer but the fact is that he was an informer in particular operation in which he was supposed to lead these people to a location. He led them to a location where some people were going to come, that is separate.

"That does not protude the fact that he could have been or was involved in the bomb blast. The ATS had come to that conclusion after investigations and the ATS had briefed me about it on Saturday," he added.