Hoodlums Disrobe Woman, Villagers Prevent Them From Parading Her Naked In UP
Barabanki (UP), Apr 10: Several miscreants on Monday tried to parade a woman naked throughout a village of this district after a dispute between two families, but were prevented because of timely intervention of some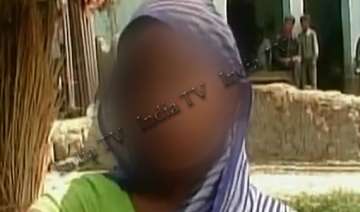 India TV News Desk
April 10, 2012 22:44 IST
Barabanki (UP), Apr 10:
Several miscreants on Monday tried to parade a woman naked throughout a village of this district after a dispute between two families, but were prevented because of timely intervention of some villagers.
The incident took place in Ambeer village under Safdarganj area of Barabanki district. On Sunday evening, there was a quarrel between Kriparam Tiwari and Ram Sumiran Gupta, after which a case was registered with police.
On Monday, Ram Sumiran Gupta along with his three nephews attacked the house of Tiwari, who was not present at that time. They attacked his brother Badri. Badri's wife Aarti Devi tried to stop them, and in the melee, the hoodlums stripped off her sari.  The lady ran inside her house in her blouse and petticoat.
As Ram Sumiran Threatened to parade her naked, villagers gathered at the spot carrying lathis. The hoodlums fled from the spot.
Aarti Devi told police that were it not for the villagers, she would have been insulted by being paraded in the streets.
Barabanki police have arrested Ram Sumiran Gupta, Nand Kishore Gupta and their wives in this connection.