Huge forest fire in Tirumala, IAF choppers, 100 army men deployed to douse blaze
Tirupati:  The Indian Air Force is sending four helicopters and the army 100 personnel to battle a massive fire in the Seshachalam forests that is threatening the famous Balaji temple atop the Tirumala Hills, officials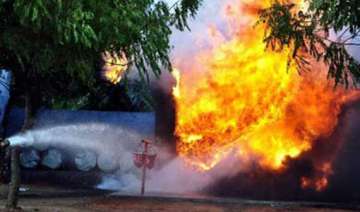 IANS
March 20, 2014 10:36 IST
Tirupati: 
The Indian Air Force is sending four helicopters and the army 100 personnel to battle a massive fire in the Seshachalam forests that is threatening the famous Balaji temple atop the Tirumala Hills, officials said Wednesday.
Andhra Pradesh Chief Secretary P.K. Mohanty said the director general of forests and the director general of fire services will also be rushing to Tirumala from Delhi Thursday.
Mohanty spoke to the union cabinet secretary and secretaries of defence and forest and environment to brief them of the situation and seek help from the centre.
Earlier, Governor E.S.L. Narasimhan said two C130 aircraft - which have expertise in chemical spraying to put off fire - will arrive Wednesday night.
An official statement said the governor has alerted the chief of air staff, naval authorities and other heads of armed forces.