Huge quantity of explosives seized in Jharkhand
Ranchi: As many as 10,000 detonators were seized from three different passenger buses in Namkum area here today, police said.Three persons were arrested in this connection, a senior police official said.Acting on a tip-off that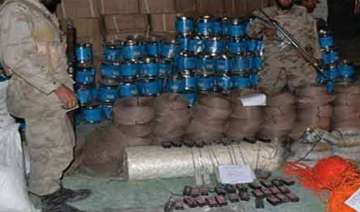 PTI
January 18, 2015 23:33 IST
Ranchi: As many as 10,000 detonators were seized from three different passenger buses in Namkum area here today, police said.
Three persons were arrested in this connection, a senior police official said.
Acting on a tip-off that explosives were being brought to Ranchi from neighbouring Odisha, a police team intercepted three vehicles and found the detonators and 22 kg ganja, Superintendent of Police Prabhat Kumar said.  The consignments allegedly belonged to Raj Kumar alias Raju Singh, Ravi Shankar Pandey alias Damaru Pandey and Horo Prasad, he said, adding that all of them were arrested.
Later, Pandey guided the police to a house allegedly owned by Sonowar Khan at Dundigarha village in Ranchi district and found five kg ammonium nitrate and three bundles of codex wire, the police official said.