Indian Air Force plane brings back 55 stranded Indians
New Delhi/Kathmandu: An Indian Air Force aircraft tonight brought back 55 stranded Indians, including four infants, from the earthquake-hit Nepal.  The aircraft C-130J, which had earlier flown National Disaster Response Force (NDRF) members and relief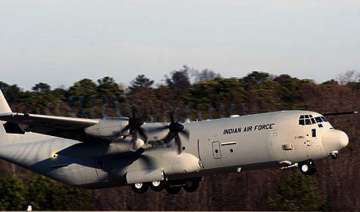 PTI
26 Apr 2015, 9:32:11 AM IST
New Delhi/Kathmandu: An Indian Air Force aircraft tonight brought back 55 stranded Indians, including four infants, from the earthquake-hit Nepal.  
The aircraft C-130J, which had earlier flown National Disaster Response Force (NDRF) members and relief materials from New Delhi to Kathmandu, landed here with 55 Indian evacuees at around 10.45 PM, Defense Ministry spokesperson said.
Earlier, External Affairs Ministry spokesperson Vikas Swarup had said that besides C-130J, two other IAF aircraft—
IL-76 and C-17 -- have also been sent to Kathmandu to ferry Indian nationals stuck in the Nepalese capital.  
While IL-76 has flown 153 NDRF members along with 28 tonnes of relief material to Kathmanadu, the C-17 aircraft had 96 NDRF members with 15 tonnes of relief material onboard.  
The two aircraft are expected to bring back 100 Indians each and were likely to land here either late tonight or tomorrow, he said.
Nepal was struck by the worst earthquake in 80 years, leaving nearly 1,500 people dead in flattened houses and buildings.
The quake measuring 7.9 on Richter scale, which was followed by 16 aftershocks of magnitude 4.5 or greater, striking heavy casualties in Kathmandu and injuring thousand others. Hundreds were feared missing across the country.  
National spokesperson of BJP M J Akbar, who was among the 55 Indians rescued from Kathmandu and arrived here tonight, said that condition in Nepal was "scary". 
"The condition there is scary, people are afraid. This is a major set back for them—Kathmandu and Nepal. The entire Kathmandu shook for about two minutes, even where I was staying," he told reporters after arriving here.