IAF to get four more Tejas by end of this fiscal: NAL
Chennai: The Indian Air Force is likely to get four more indigenously made light combat aircraft Tejas by the end of the current financial year from Hindustan Aeronautics Limited, National Aerospace Laboratories' Director Shyam Chetty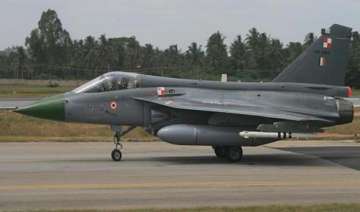 PTI
April 25, 2015 21:55 IST
Chennai: The Indian Air Force is likely to get four more indigenously made light combat aircraft Tejas by the end of the current financial year from Hindustan Aeronautics Limited, National Aerospace Laboratories' Director Shyam Chetty said here today.
"The four aircraft may adhere to international standards on end-to-end accuracy," Chetty said, adding, further research was on to meet the parameters stipulated by the IAF.  IAF had some concerns with Tejas's end-to-end accuracy and efforts have been made to rectify it, he said speaking to reporters on the sidelines of the 68th CSIR-Central Leather Research Institute Foundation Day Celebrations here.  "
The Indian Air Force wanted eight aircraft every year.  We will be handing them four more aircraft by the end of this financial year," he said.
The country got its first indigenous light combat aircraft Tejas in January this year, three decades after the Centre gave nod for its development.
The aircraft handed over in January could take off with only restricted weaponry and sensors and tests with a full range of weaponry was yet to be done, he added.  "We have missiles from countries like Russia, France, and Israel. We have to integrate them with the [Tejas] aircraft and conduct tests," he said.
Scientists are presently conducting trials for Tejas at the sea-based test facilities at INS Hamsa in Goa.  He also referred to some manufacturing issues concerning Tejas.