IMD prediction of deficit rain add to farmers' woes
New Delhi: The Indian Meteorological Department (IMD) prediction of deficit monsoon this year added to the woes of farmers who are badly affected by unseasonal rain and hailstorms.The IMD yesterday released its first forecast for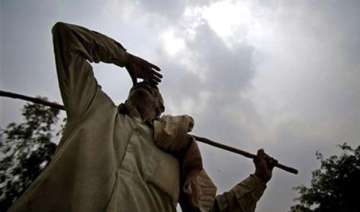 India TV News Desk
April 23, 2015 11:13 IST
New Delhi: The Indian Meteorological Department (IMD) prediction of deficit monsoon this year added to the woes of farmers who are badly affected by unseasonal rain and hailstorms.
The IMD yesterday released its first forecast for the upcoming monsoon season predicting 33% chances of deficit rainfall. If rain this year happens to be as low as IMD has predicted, this would be third consecutive season of abnormal rain. Last year's deficient monsoon this year's unseasonal rain being the other two.            
Lower than average rainfall for the second consecutive year in Rajasthan, Haryana, Punjab, Uttar Pradesh, Madhya Pradesh and Maharashtra could substantially bring down the output of kharif crops by nearly 60%. Summer-sown kharif crops such as paddy, lentils, sugarcane, spices, mangoes and oilseeds account for nearly half of India's food harvest.
Uttar Pradesh, the largest state in the country is heavily affected by unseasonal rains. The production of rabi crops, especially wheat, has been very low this year triggering 62 farmer suicides and shock deaths. The sate government has put the loss figure at Rs 6,677.45 crore. Officials said the state government would prepare a drought relief programme following the grim prediction for the June-September rainy season.
Haryana, one of the most fertile states, has witnessed 11 farmer deaths so far after freak weather forced an estimated 8% drop in wheat production compared to 2014 when the state harvested 118 lakh metric tonnes of the major staple crop.
Punjab has suffered 75 to 100% crop loss, according to state government's estimates, and wheat production could fall by 7% against last year's output.
Maharashtra is one of the most affected states and has seen a number of farmer's suicide in the last couple of years. The government has announced an estimated 31% foodgrain production loss and 88% in oilseeds because of a rainy winters and parched summers over the past couple of years.
In just three months period, from January to March this year, 141 farmers have committed suicide, the state's agriculture and relief and rehabilitation department data said.
Following the incident in Bhagalpur where six farmers tried to set themselves ablaze on April 14, Bihar, Chief Minister Nitish Kumar on Wednesday announced an amount of Rs 1,764.35 crore as farm input subsidy to farmers.