8th February News in Nutshell: Important stories of the day
National News-TRAI gives green signal to Net Neutrality, rejects Facebook's Free Basics schemeNew Delhi: Putting to rest the heating debate on differential pricing, Telecom Regulatory Authority of India (TRAI) today announced that "no telecom operator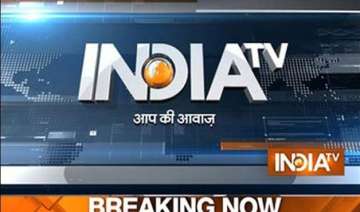 India TV News Desk
February 08, 2016 19:54 IST
National News-
TRAI gives green signal to Net Neutrality, rejects Facebook's Free Basics scheme
New Delhi: Putting to rest the heating debate on differential pricing, Telecom Regulatory Authority of India (TRAI) today announced that "no telecom operator could charge discriminatory tariffs for data services on the basis of content." Read More
26/11 attacks: Headley identifies Hafiz Saeed as head of LeT in Pakistan
Mumbai: For the first time after turning approver in the 26/11 Mumbai attacks case, Pakistani-American LeT operative David Coleman Headley's deposed before a Special TADA Court via video-conferencing from a US jail today. Read More
People's participation important to bring about a change: Modi
New Delhi: Prime Minister Narendra Modi today pitched for people's involvement to bring about a change in rural areas as he interacted with over 200 youths working in these areas under a national scheme.
Pathankot attack: Pakistan rules out role of JeM chief Masood Azhar
New Delhi: The Pakistani team tasked to investigate the role of outlawed terror outfit Jaish-e-Muhammad (JeM) militant group in last month's Pathankot attack has found no substantive evidence suggesting involvement of its chief Maulana Masood Azhar in the incident, a conclusion that may further widen the chasm between New Delhi  and Islamabad. Read More
MCD workers end strike after Delhi HC intervenes
New Delhi: The employees of three civic bodies in national capital today agreed to call of their strike and resume work after the intervention of the Delhi High Court. Read More
International News-
Pakistan behind rise of international Jihadi forces including ISIS: Report
New York: In a stinging commentary on Pakistan's "intervention" in a number of foreign conflicts, a leading US daily has said that Pakistan's powerful intelligence service has long acted as the 'manager of international Jihadi forces and it may have been involved in the rise of the ISIS'. Read More
You are not immune to ISIS threat: UAE warns India
Abu Dhabi: Warning that India is not immune to the threat from Islamic State (ISIS), the UAE, which has deported about a dozen Indians with suspected links to the terror group, said today that its anti-terror cooperation with India is going to get "more institutionalised". Read More
Suicide bombing in north Afghanistan kills 3 Afghan soldiers
Kabul, An official says at least three Afghan soldiers have been killed in a suicide bomb attack on an army minibus near their base in northern Balkh province.
Business News-
GDP Growth Rises 7.3% in December Quarter, Meets Estimates
India's gross domestic product (GDP) grew at 7.3 per cent in the December quarter, meeting estimates. The data shows that Indian economy is expanding at a faster pace than China, where GDP growth hit nearly seven-year low of 6.8 per cent growth in the December quarter.
Sensex takes 330-pt hit on global woes ahead of GDP data
Mumbai, Feb 8 (PTI) Equities snapped a two-day rally as the market benchmark Sensex plunged by 330 points to 24,287.42 ahead of the release of GDP numbers for the third quarter as selling pressure intensified in the second half of the session on bearish European cues.
Ratan Tata invests in Invictus Oncology, 7th investment in 2016
Ratan Tata, chairman emeritus Tata Sons Ltd. has invested in Invictus Oncology Private Limited, an innovation-driven oncology company developing next generation cancer therapeutics, the company announced in a press release. This comes on the heel of the first B2B start-up, Mogilx that was the latest investment of Tata.
Entertainment News-
Kajol all set to join Prasar Bharati board as part-time member
New Delhi. Bollywood actor Kajol is all set to join the Prasar Bharati board as a part-time member with a committee headed by Vice President of India Hamid Ansari choosing her for the position from a list of eminent names.
Acclaimed poet-lyricist Nida Fazli no more
Mumbai. Renowned poet and lyricist Nida Fazli, who penned several soulful compositions like 'Kabhie kisi ko mukamil jahan nahi milta', passed away today after he complained of breathlessness at his residence in suburban Mumbai.
Nawazuddin to star in Sohail Khan's next
Mumbai.  Bollywood actor Nawazuddin Siddiqui will reportedly play the lead in Sohail Khan's upcoming film.
Sports News-
Want Raina to bat No 4 keeping World T20 in mind: Dhoni
Unwilling to tinker with the line-up in view of next month's World Twenty20, India captain Mahendra Singh Dhoni today said the team will prefer Suresh Raina in the No.4 slot in the series against Sri Lanka even though vice-captain Virat Kohli's absence has opened the No.3 position.
Indian women archers win Compound gold at SAG 2016
Shillong:  India bagged the gold medal in Compound women's archery at the 12th South Asian Games (SAG) on Monday at the First Ground of the Jawaharlal Nehru Sports Complex. Read More