9th February News in Nutshell: Important stories of the day
National NewsSiachen survivor Lance Naik Hanamanthappa critical, next 2 days crucial for himJammu/New Delhi: The condition of Indian Army's Lance Naik Hanumanthappa Koppad, the jawan who was rescued from Siachen Glacier on Monday six days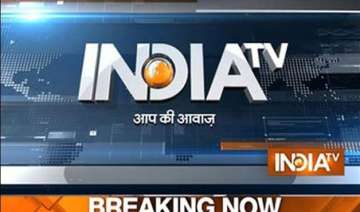 India TV News Desk
February 09, 2016 20:04 IST
National News
Siachen survivor Lance Naik Hanamanthappa critical, next 2 days crucial for him
Jammu/New Delhi: The condition of Indian Army's Lance Naik Hanumanthappa Koppad, the jawan who was rescued from Siachen Glacier on Monday six days after an avalanche hit their post, is extremely critical, a hospital bulletin said. Read More
ISI provides moral, military and financial support to LeT, discloses David Headley
Mumbai: The deposition of Pakistani-American terrorist David Coleman Headley continued for second consecutive day before a court here. Read More
BJP sets deadline for PDP over govt formation in Jammu and Kashmir
New Delhi: Talking tough on the issue of government formation in Jammu and Kashmir, the Bharatiya Janata Party (BJP) has set a deadline for the Peoples Democratic Party (PDP) chief Mehbooba Mufti. Read More
India has lost a valued friend, says PM on Koirala's demise
New Delhi, Feb 9 (PTI) Prime Minister Narendra Modi today condoled the demise of former Prime Minister of Nepal Sushil Koirala, saying India has a lost a "valued friend".
Disappointed but would not give up: Zuckerberg on TRAI ruling
New Delhi: A day after India's telecom watchdog TRAI ruled against differential pricing for Internet services, a move that will close doors for Facebook's plan to roll out Free Basics in Asia's third largest ecnomy, CEO Mark Zuckerberg expressed his disappointment in a post but reiterated his commitment to keep working to break down barriers to connectivity in India. Read More
International News
Several dead, around 100 injured in German train mishap
Berlin: At least two people have died and about 100 have been injured in a train crash in southern Germany. Read More
More than 1 million are besieged in Syria: Report
New York: More than one million Syrians are trapped in besieged areas, a new report says in a challenge to the United Nations, which estimates just half that amount and has been accused by some aid groups of underplaying a crisis. Read More
I have at least 20 Muslim friends, says Donald Trumph
Washington: Republican presidential hopeful Donald Trump defended himself against accusations of Islamophobia saying he has 'at least 20 Muslim' friends but failed to name even a single out of them. Read More
ISIS deployed 60 jihadists in Europe to attack 5 cities
Washington: ISIS deployed 60 jihadists in Europe as part of a plot to carry out attacks on five cities including London, Paris and Berlin before the carnage it unleashed in the French capital, according to a media report.
Pak approves Hindu Marriage Bill
Islamabad:  After decades of delay and inaction, the Hindu minority community in Pakistan will soon have a marriage law as a parliamentary panel has unanimously approved the Hindu Marriage Bill.
Business News
Gold surges Rs 710 to top Rs 28,000-level, hits one-year high
New Delhi: Gold prices today regained the Rs 28,000-mark by soaring Rs 710 -- its biggest single-day surge this year -- to trade at its highest level in over one-year on bullish trend in global markets and buying by jewellers.
Google's Sundar Pichai set to become highest paid CEO in US
New Delhi: Google's Chief Executive Officer (CEO) Sundar Pichai is all set to become one of the highest-paid executives of a publicly traded company this year after parent Alphabet awarded him $199m worth of shares, making the India-born techie highest paid CEO in the US. Read More
India to spend $1 tn on power by 2030: Piyush Goyal
Sydney: India is expected to spend a whopping USD 1 trillion (about Rs 65 lakh crore) by 2030 on ramping up its power infrastructure as one of the world's largest energy consumers aims to provide 24/7 electricity to its citizens.
Sports News
India colts steamroll Sri Lanka to enter 5th WC final
Mirpur.  Three-time champions India continued their invincible run to enter the ICC Under-19 World Cup final for a fifth time with an emphatic 97-run win over Sri Lanka in the semifinals today.
1st T20: Sri Lanka win toss, elect to bowl first vs India in Pune
Pune: Boosted by their 3-0 clean sweep of Australia Down Under, India opts to bat first today. Key players include RG Sharma, S Dhawan, A Rahane, S Raina, Y Singh, MS Dhoni, H Pandya, R Ashwin, R Jadeja, J Bumrah,A Nehra.
How Irfan Pathan sacrificed his love for elder brother Yusuf pathan
New Delhi: With his swing bowling Irfan Pathan, the handsome cricketer and heart throb of millions of girls, troubled many batsmen all over the world but not many people know that he too was bowled over by a girl name Shivangi Dev in his early days. Read More
Entertainment News
Cinema focuses on entertainment, later education: Benegal
Mumbai. Eminent filmmaker Shyam Benegal says when you make a film, the process is entertainment first followed by information and education.
Shaan plans to release single soon
Mumbai. Popular Bollywood singer Shaan says he is keen to compose a single as he feels the trend of original albums is redundant.
Considered boycotting Oscars: Stallone
Los Angeles. Sylvester Stallone thought of boycotting the February 28 Oscar ceremony due to the lack of diversity in this year's nominations.