Major News Events for 20th April, 2015
1. Lok Sabha to begin second part of Budget session Second part of the ongoing Budget session of Parliament will begin today with the reconvening of the Lok Sabha.The controversial land bill issue is expected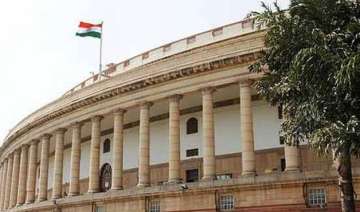 India TV News Desk
April 20, 2015 10:23 IST
1. Lok Sabha to begin second part of Budget session
Second part of the ongoing Budget session of Parliament will begin today with the reconvening of the Lok Sabha.
The controversial land bill issue is expected to generate much heat in Lok Sabha with the government deciding to table the new land ordinance on the very first day of the second half of Budget session.
2. Waterways Bill to be introduced in Parliament
The Inland Waterways Bill to convert 101 rivers across the country into transport channels will be introduced in Parliament today.
Road Transport and Highways Minister Nitin Gadkari said. "I will be introducing the Inland Waterways Bill in Parliament on April 20.
3. Salman Khan hit-and-run case: Judgement date to be fixed today
A trial court would today fix the date for pronouncement of judgement in the 13-year-old hit-and-run case in which Bollywood actor Salman Khan is an accused and refused to give the defence more time to conclude its final arguments.
4. Jitan Ram Manjhi to hold HAM rally in Patna; political future at stake
Ex-CM Jitan Ram Manjhi has put his future at stake by making the announcement that he would seek political 'sanyas' if the turnout at the HAM rally at Patna Gandhi Maidan, to be held today, will be less than 5 lakh.
5. Kerala CM Oommen Chandy's mass contact programme to begin today
Unfazed by the onslaught of CPI(M)-led LDF opposition on various issues, Kerala Chief Minister Oommen Chandy is all set to begin the third-leg of the much acclaimed state-wide mass contact programme today.
6. Satyam case: Court to pronounce order on Raju's appeal against conviction
A Metropolitan Sessions Court to pronounce order today on an appeal filed by B Ramalinga Raju and others challenging a special court's verdict which found them guilty in the multi-crore rupee accounting fraud in erstwhile Satyam Computer Services Ltd.
7. Holy cloth sent by US Prez Barack Obama to be offered at Ajmer Sharif
A red coloured Chaddar (Holy Cloth), which was sent by US President Barack Obama on the occasion of the 803th annual celebrations of Urs of Hz.Khawaja Moinudeen Chishty, would be offered at Ajmer Dargah Sharif in Rajasthan today.
8. Corporate espionage case hearing today
The next hearing of corporate espionage case will be conducted today by a Delhi court.  The  Petroleum and Natural Gas Ministry on Wednesday told the Delhi court that eight documents recovered from the accused in the corporate espionage case are classified in nature.
9. SC to consider bar owner's plea today
The Supreme Court will today consider the plea of four star bar owners seeking to cancel the Kerala High Court verdict to uphold the Kerala government's liquor policy confining bar license only to five-star hotels.
The court deferred the case following the request of bar owners seeking time to produce more documents regarding the case.
10. Singhania grandchildren's suit hearing adjourned till April 20
The Bombay High Court will today conduct the hearing on suit filed by the grandchildren of Dr Vijaypath Singhania, chairman emeritus of Raymond Ltd, seeking claim on the ancestral property.  The hearing was adjourned last Monday to allow all respondents to file their reply affidavits.
11. Chinese President to visit Pakistan today
Chinese President Xi Jinping will arrive in Pakistan today for a two-day visit, as per the news reported by Dunya News.  The announcement schedule for of Xi's visit was made by foreign office spokeswoman Tasnim Aslam on Thursday.