News in Nutshell: Tap to read Important stories of the day
National News- CBI arrests suspended Noida engineer Yadav Singh on corruption chargesThe Central Bureau of Investigation (CBI) today arrested suspended engineer of Noida Authority Yadav Singh in connection with an alleged corruption case against him. Read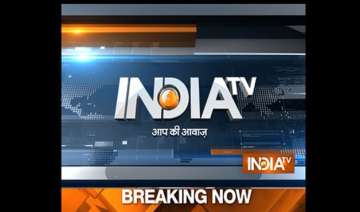 India TV News Desk
February 03, 2016 20:49 IST
National News-
CBI arrests suspended Noida engineer Yadav Singh on corruption charges
The Central Bureau of Investigation (CBI) today arrested suspended engineer of Noida Authority Yadav Singh in connection with an alleged corruption case against him. Read more
10 Army soldiers missing in Siachen avalanche
At least 10 Army jawans are missing after an avalanche hit Siachen's northern glacier in Jammu and Kashmir.  Read more
Indian hockey skipper Sardar Singh's fiancée accuses him of sexual harassment
An international hockey player of Indian origin has filed a police complaint against national team captain Sardar Singh alleging sexual harassment. Read more
A hurt Anupam Kher declines visa offer by Pakistan envoy
Pakistan High Commissioner to India Abdul Basit today called veteran actor Anupam Kher to express regret over denial of visa to him for the Karachi Literature Festival, which begins on Friday. Read more
SC nod for Make in India function at Chowpatty beach
The Supreme Court on Wednesday gave its nod for the holding of the Make in India function at Mumbai's Chowpatty beach on February 13 that will be attended by Prime Minister Narendra Modi and the prime ministers of four other countries. Read more
Indian medical firm claims breakthrough in developing world's first Zika vaccine
A Hyderabad-based vaccines and bio-therapeutic manufacturer, Bharat Biotech, claimed to have pulled-off a major breakthrough in the development of the world's first vaccine to fight the dreaded mosquito-borne Zika virus which has been declared as public health emergency by the World Health Organisation (WHO). Read more
Auto Expo 2016 starts in Greater Noida: Here's a list of 9 prominent players and what do we expect from them
The organisers of Auto Expo 2016 had recently said that the 13th edition from February 5 to 9, 2016 is poised to be the biggest automobile carnival in India till now. Read more
International News-
China concerns over planned N Korea rocket launch
China expressed "serious concerns" today over North Korea's plans to launch a rocket later this month, ostensibly to put a satellite into orbit.
Russia to continue bombing Syria until it defeats 'terrorist organisations': Foreign Minister
Russian Foreign Minister Sergei Lavrov says Moscow will not stop conducting air strikes in Syria until all "terrorist" groups are defeated.
Business News-
Vodafone India launches 4G services in Delhi, NCR
Vodafone India on Wednesday announced the rollout of its next generation network in Delhi and NCR region. Read more
Russia delivers final batch of Mi-17V-5 choppers to India
Russia has handed over to India the final batch of three Mi-17V-5 military transport helicopters under a previously signed contract even as it gets ready to ink yet another deal for another 48 such choppers. Read more
Entertainment News-
Now, SRK's 'Raees' in trouble over actor's 'intolerance' jibe, protestors stall shooting
Controversies over superstar Shah Rukh Khan's remarks on intolerance do not appear to be withering away any time soon. Read more
Rs 2 crore! Yes, that's what Rishi Kapoor's look in 'Kapoor & Sons' cost
Veteran actor Rishi Kapoor is like a wine that keeps getting better with age. The veteran actor proved when he took to Twitter to reveal his unrecognizable look from the upcoming movie 'Kapoor & Sons'. Read more
Sports News-
India squads for Asia Cup and World T20 to be announced on 5 February
The Indian squads for the upcoming Asia Cup T20 tournament in Bangladesh and the subsequent ICC World Twenty20 championship in India are to be chosen on February 5 at Delhi by the national selection panel headed by Sandeep Patil.
DDCA entitled to Rs 2.5 crore from BCCI, informs justice Mukul Mudgal
Justice (retd) Mukul Mudgal has informed the Delhi High Court that the Delhi and District Cricket Association (DDCA) is entitled to at least Rs 2.50 crore from the BCCI for hosting the India-South Africa fourth Test at Ferozshah Kotla in December.