India-Bangladesh border pact approval crucial: Officials
Agartala: Unless India ratifies the land boundary agreement with Bangladesh in parliament, the long-pending border problems between the two countries would not be resolved, officials of the two countries said here on Sunday."The India-Bangladesh Land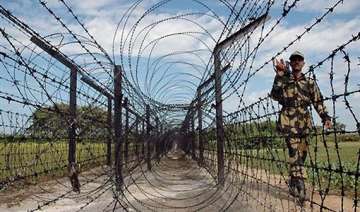 IANS
August 25, 2013 15:36 IST
Agartala:
Unless India ratifies the land boundary agreement with Bangladesh in parliament, the long-pending border problems between the two countries would not be resolved, officials of the two countries said here on Sunday.
"The India-Bangladesh Land Boundary Agreement (LBA) would permanently resolve frequent problems in the disputed areas and adversely possessed areas in 25 locations along the 4,095-km boundary between the two countries," Abdul Mannan, director general of Bangladesh land records and survey directorate, said.
"Bangladesh parliament has already ratified the LBA long back, now it has to be endorsed in the Indian parliament," Mannan said.
Mannan explained that the LBA was signed between the foreign ministers of the two countries when Indian Prime Minister Manmohan Singh visited Dhaka in September 2011.
"There was a pre-condition that the LBA has to be ratified by the respective parliaments of the two countries," the Bangladeshi official said.
"Of the 25 yet unsettled areas along the border between the two countries, there are two places in Tripura. These are Muhurichar in southern Tripura (75 acres) and Chandan Nagar in northern Tripura (148 acres)," Mannan told reporters after a three-day India-Bangladesh boundary conference here.
He said there was no major problem along the India-Bangladesh border. There are, however, some minor disputes in a few portions of the international border in Tripura. The official said these were discussed at the meeting.
"There are some 500 border pillars along the India-Bangladesh border in Tripura. There are some pillars either missing or damaged in five locations. We would jointly identify the place of the missing pillars and take steps to repair them," Mannan said.
In the three-day 82nd border conference, the six-member Indian side was led by Survey of India's Kolkata-based director (in-charge of eastern Indian states) N.R. Biswal, while the six-member Bangladesh side was headed by Abdul Mannan.
Biswal said the officials of the two countries would jointly conduct a survey and re-demarcate disputed areas where there are no border pillars for a long time and embankments required for the protection of the border areas.
Mannan said the last border conference was held in Dhaka. The next such meet would also be held in Bangladesh -- in Comilla -- to discuss border-related problems with India's West Bengal.
Of the 4,095-km-long border between India and Bangladesh, Tripura shares 856-km border with that country, while West Bengal shares a maximum of 2,216 km, followed by Meghalaya (443 km), Mizoram (318 km) and Assam (262 km).
A large portion of the India-Bangladesh border remains unfenced, porous, mountainous and riverine.