India's missile interceptor test off Odisha coast fails
Bhubaneswar: India's ballistic missile interceptor failed a test on Monday, being unable to reach its target, a senior defence official said.The indigenous Advanced Air Defence (AAD) interceptor missile was fired from Wheeler Island off the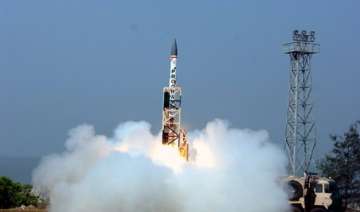 IANS
April 06, 2015 17:53 IST
Bhubaneswar: India's ballistic missile interceptor failed a test on Monday, being unable to reach its target, a senior defence official said.
The indigenous Advanced Air Defence (AAD) interceptor missile was fired from Wheeler Island off the coast in Odisha's Bhadrak district, about 170 km from here, but plummeted into the Bay of Bengal seconds after the liftoff.
"It took off as planned but it did not reach the target. We are analysing the data," test range director M.V.K.V. Prasad told IANS.
Earlier Modi govt has started the process to equip national capital Delhi with the much awaited nuclear missile shield. Indian missile shield programme was launched in 2006 but it got slowed down in 2013 -14. In fact, there was a failed test in April 2014.
Modi govt has accelerated this programme on a priority basis after taking the reins of power in May 2014.