India must be prepared for two-front war: IDS chief
New Delhi: India must be prepared for a two-front war keeping in view the growing closeness between China and Pakistan, Integrated Defence Staff (ISD) chief Air Marshal PP Reddy said on Monday."We are located in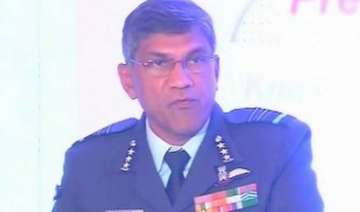 IANS
January 06, 2015 11:33 IST
New Delhi: India must be prepared for a two-front war keeping in view the growing closeness between China and Pakistan, Integrated Defence Staff (ISD) chief Air Marshal PP Reddy said on Monday.
"We are located in a difficult neighbourhood, with two nuclear-armed adversaries. Our primary external security challenges arise from the immediate neighbourhood, that is, to the north and west, and to a certain extent, from the extended neighbourhood, especially terrorism in the name of religion," Air Marshal Reddy said at the Conference on Aerospace, Defence and Homeland Security organised by industrial chamber ASSOCHAM.
He said China's "growing assertiveness and cooperation with Pakistan" complicates the external security environment.
"We have to be prepared for a collusion and a two-front war," he said.
The chief of the Integrated Defence Staff also said India's old ally in superpowers Russia is now suffering on economic front following the sanctions following Ukraine crisis and downfall in the prices of crude oil. At the same time, its relations with China are getting deeper while the US already has business interests in China.
"In case of any war, both the countries will be fence sitters," he said.
Looking at the growing difference in India's and China's economy, Air Marshal Reddy further said that it has become difficult for New Delhi to match up to its neighbour.
"China, with its growing stature and economic clout and hunger for resources to feed its manufacturing conglomerate, has stepped up diplomatic and economic activities in our area of interest. China is building ports and infrastructure, providing long-term loans and economic aid as well as exporting arms, to all our neighbouring countries," he said.
"Unfortunately, the state of our economy and defence industry does not allow us to compete with China. Many countries in our neighbourhood look up to us to provide training, equipment and infrastructure, but we are unable to do this," he added.
Reddy said this is where domestic manufacturing assumes importance, and urged the industry to come forward in defence manufacturing sector.