India rescuers enlarge Nepal ops to worst-hit areas
New Delhi: India today enlarged its relief and rescue operations in quake-hit Nepal to the worst-affected epicentre areas even as it began a "big" evacuation effort through the road route with 4,000 people scheduled to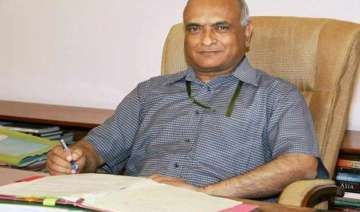 PTI
April 28, 2015 21:16 IST
New Delhi: India today enlarged its relief and rescue operations in quake-hit Nepal to the worst-affected epicentre areas even as it began a "big" evacuation effort through the road route with 4,000 people scheduled to reach India tonight.
On the fourth day of the killer quake which has left thousands dead and affected millions in the neighbouring country, Indian rescuers from NDRF and Air Force planes have begun reaching areas beyond Kathmandu valley near Pokhara.  
"We now have a better appreciation of the area after our helicopters have undertaken numerous sorties. We have conducted chopper operations to the affected areas outside Kathmandu today. A AN-32 plane also landed at Pokhara today," Defence Secretary R K Mathur told reporters during an official briefing of operation 'Maitri' here.
Foreign Secretary S Jaishankar, during the press conference, said a "big movement by roads" has been initiated and in the first phase approximately 4,000 Indians in 80 buses will be reaching India by tonight. The buses, after crossing the Indo-Nepal border, will termiate at Gorakhpur in Uttar Pradesh.
"The bus route is probably the best route to come back home and we have made arrangements for the same along the border on the Indian side," he said.
The two secretaries, along with Home Secretary L C Goyal, said "a few more" rescue and relief flights have taken to the air today even as a number of buses and trucks carrying loads of relief material reached Kathmandu and after dropping these, picked up passengers on their way back.  
"There has been progress in terms of relief going in," the Foreign Secretary said. Talking about Indian casualities, he said that bodies of six tourists from Assam have been handed over to their family members while seven more fatalities are feared adding 12 Indians were rescued by the Nepalese Army from Tamakoshi area.
Goyal said in India, 75 casualities and 450 injuries have been reported till now from affected states in the aftermath of the earthquake that hit the country and Nepal last Saturday.
"The maximum casualities of 58 have taken place in Bihar.  No assisstance has been sought by any other quake-affected state from the Centre till now. However, NDRF teams are working at these locations," he said.
Jaishankar said Indian Ambassador Ranjit Rae met Nepal's Prime Minister Sushil Koirala and the Army Chief even as they thanked India for the swift action and help provided to the victims of the quake.
He added 170 foreigners from 15 countries were evacuated by Indian rescuers.
Besides, 251 other foreign national have also reached India through the land border.
A total of 16 National Disaster Response Force (NDRF) teams are now present in the Himalayan nation who he said were working in close coordination with Nepalese authorities.  These trained personnel will also be moved to operate in places closer to the affected areas.
Defence Secretary Mathur said 24 tonnes of relief material have been dispatched to Nepal even as 19 mountaineers were rescued by Indian personnel from the Lukla area.  He said three field hospitals, with 45 beds, have been made operational there and even three surgeries have been conducted.
"382 Indians have come back today by the air route. In all, the Indian Air Force has ferried 2,865 passengers back home," he said.
Mathur said with the operationalisation of two air bases at Kathmandu and Pokhara, the IAF has got better options to undertake sorties even as this has "de-congested air space in Kathmandu".
"There is an old airport at Pokhara and we are using it now. We are now covering the worst-affected areas," he said.  Jaishankar said it is expected that 100 more buses will go to Nepal from Uttar Pradesh tomorrow and after dropping relief material, they will carry passengers back.  He added that Indian engineering teams were working to keep the roads open and clear them from debris that fell in the aftermath of the shocks.
NDMA Member-Secretary R K Jain said 249 phone calls have been received till now on its helpline number '1078'.