India reaches out to Saddam Hussein's aide to rescue 39 hostage
New Delhi: In an attempt to secure the safe release of 39 hostages in Iraq, India has reached out to an armed group led by Saddam Hussein's former deputy Izzat Ibrahim al-Douri fighting along ISIS.Nearly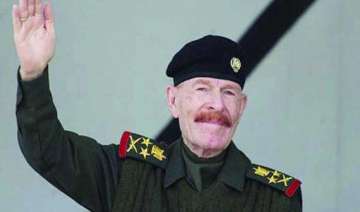 India TV News Desk
June 24, 2014 9:15 IST
New Delhi:
In an attempt to secure the safe release of 39 hostages in Iraq, India has reached out to an armed group led by Saddam Hussein's former deputy Izzat Ibrahim al-Douri fighting along ISIS.
Nearly 10 days after 40 Indian construction workers were kidnapped from Mosul in northern Iraq by the Islamic State of Iraq and the Levant militants all that has been confirmed is that one of them escaped.
What has now given hope to New Delhi is ISIS brass' reported message to its ranks that foreign hostages should not be harmed or harassed as it could adversely "hit their goodwill" among the people, according to The Hindustan Times report.
The Naqshbandi army has "deep influence and control over things" in Mosul and played an equal role in as the ISIS in overrunning the Iraqi administration in the Sunni-dominated areas.
Douri, Saddam Hussein's ex-deputy who took over the Ba'ath party after the former dictator was executed in December 2006, leads the group.
A former top military commander, he is reported to have joined fighters near his home town Tikrit and has emerged a key figure in the Sunni advances in the north of the country.
Al-Douri escaped capture from the US forces after the invasion that overthrew Hussein and gave the majority Shiite Muslims a prominent role in the new government.
Over the last few years, he encouraged anti-government Sunni protesters to challenge the Maliki government and force him out.
In 2013, al-Douri addressed the Sunnis saying: "The people of Iraq and all its nationalist and Islamic forces support you until the realisation of your just demands for the fall of the Safavid-Persian alliance".
Safavid refers to the dynasty that ruled Shiite Iran from the 16th to 18th centuries. Maliki has been criticising for edging closer to Iran, which has a strong influence over several Iraqi Shiite parties.
Maliki suggested that many soldiers just handed over their weapons to militants without fighting. Iraqi forces fled or surrendered to the remarkable advance of the Sunni militants, who seized the northern cities of Mosul and Tikrit.
The jihadists' success reflects not only the spillover of the Sunni insurgency in Syria but also the inability of Iraq's Shiite-led government to fully include Sunnis in the country's political life.
Though ISIS communication gave reason for guarded optimism, external affairs ministry spokesperson on Monday repeated what he said earlier "there is no safety in captivity".
"We are proceeding systematically and carefully. Various doors are opening now; these are primarily in Iraq at various levels, all of which are significant," Syed Akbaruddin said at media briefing.
There are 10,000 Indians in Iraq and out of which 120 are in conflict zones, including 46 nurses who are stuck in a hospital in Tikrit, Saddam's home town.