India, South Africa ties to be further reinforced: Pranab Mukherjee
New Delhi: President Pranab Mukherjee on Thursday expressed confidence that bilateral cooperation between India and South Africa will be reinforced further in the coming years.In his message to South African President Jacob Gedleyihlekisa Zuma on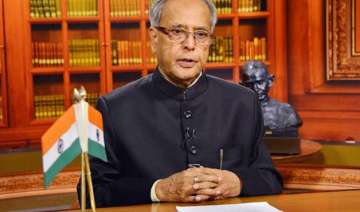 IANS
April 16, 2015 14:35 IST
New Delhi: President Pranab Mukherjee on Thursday expressed confidence that bilateral cooperation between India and South Africa will be reinforced further in the coming years.
In his message to South African President Jacob Gedleyihlekisa Zuma on the eve of the country's Freedom Day on April 17, Mukherjee said the relationship between India and South Africa was "deeply rooted in history" and has evolved into a "strategic partnership".
"Our cooperation under the IBSA (India-Brazil-South Africa) and the BRICS (Brazil, Russia, India, China, South Africa) forum adds even greater value and substance to our engagement," Mukherjee said.
"I am confident that in the coming years, we will further reinforce our bilateral cooperation for the mutual benefit of our two peoples," the president said.
"Please accept...my warm wishes for your personal health and well-being, as well as for the progress and prosperity of the friendly people of South Africa."