India, US to strengthen fight against terrorism: John Kerry
New Delhi: US secretary of state John Kerry, who is in India to attend the seventh edition of Vibrant Gujarat Summit, today said that both USA and India will further strengthen their fight  against terrorism.Speaking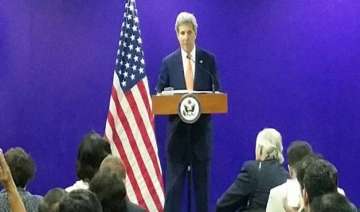 India TV News Desk
January 12, 2015 15:30 IST
New Delhi: US secretary of state John Kerry, who is in India to attend the seventh edition of Vibrant Gujarat Summit, today said that both USA and India will further strengthen their fight  against terrorism.
Speaking at the Vibrant Gujarat summit, Kerry shared his mind on various subjects including economic co- operation between the two countries and the upcoming visit of US President Barack Obama who will be the chief guest during India's Republic Day parade.  "The US investment in India have risen from $2.4 billion to $28 billion," said Jon Kerry.
"During my discussion with PM Modi and other officials, we reviewed the progress of our economic relationship and how to take it ahead," added Kerry. Obama is the first US President who will be visiting India twice during his tenure as president. The fact that both the countries are coming closer is evident from the fact that the US investment in India has risen from $2.4 billion to $ 28 billion.
"Obama is really happy to be the first US President to be visiting India twice," said Kerry.  Kerry also said that he was very much impressed with the on going Vibrant Gujarat Summit and is impressed what he has seen during the summit. "I am impressed with what I have seen during the Vibrant Gujarat summit," the US secretary of state said.
Applauding Modi's promise of providing 24/7 electricity to the countrymen , Kerry said, "The US will work towards PM Narendra Modi vision to supplying 24/7 electricity to India."  Kerry also said that both the countries look forward to reach a mutual agreement on climate change that is going to take place in Paris later this year.