India virtually rejects Pak proposal for Sharif-Manmohan talks in NY, calls for peace first on border
New Delhi: India today virtually rejected a proposal by Pakistan for the prime ministers of both countries to meet on the sidelines of UN General Assembly session in New York in September this year. An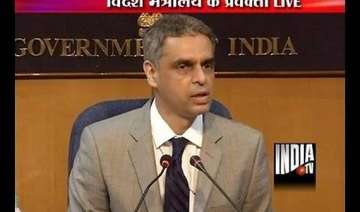 India TV News Desk
August 13, 2013 16:09 IST
New Delhi:
India today virtually rejected a proposal by Pakistan for the prime ministers of both countries to meet on the sidelines of UN General Assembly session in New York in September this year.
An External Affairs ministry spokesperson said today that Pakistan must first respond immediately about the killings of five Indian army jawans near the Line of Control and then make a proposal for Prime Minister Nawaz Sharif to meet Indian PM Dr Manmohan Singh in New York.
The spokesperson made it clear that Pakistan must dismantle the terror infrastructure in its country which has been causing violence in India.
"For peace talks to take place between India and Pakistan, peace is a must", said spokesperson Syed Akbaruddin.