EXCLUSIVE: Indo-American Gay couple says society is responsible for AIIMS doctor suicide
"If she was married to a normal guy, would she have ended her life?" asked Eli, a maths teacher in California, who recently got married to his gay partner Neil.The heart wrenching incident of AIIMS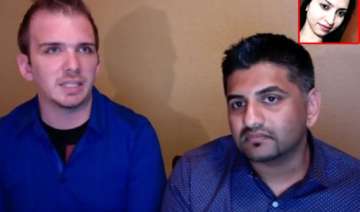 India TV News Desk
April 21, 2015 18:16 IST
"If she was married to a normal guy, would she have ended her life?" asked Eli, a maths teacher in California, who recently got married to his gay partner Neil.
The heart wrenching incident of AIIMS doctor committing suicide after knowing the sexual orientation (gay) of her husband has created called up for a serious discussion in the country. The sad end of Dr. Priya Vedi's life has provoked the Indian society to talk about the taboo topic of sexual orientation.
In an exclusive interview with IndiaTVnews.com, Neil and Eli, an Indo-American gay couple from California, expressed deep concern over too much power being given to the society.
The pair recently got hitched in a northern Indian style wedding in California. Their wedding rituals were performed by Dr. Shukavak Dasa, who had performed the same sex wedding last year for Indo-American lesbian couple Shannon and Seema.
Also Read: Meet the Gay couple who got hitched in 'Bollywood' style wedding in California!
Talking on AIIMS doctor suicide case, Neil said "It was not him nor her but the society who is at fault. We have given too much credit and power to the society".
Neil who is an Indian origin guy works as Research Analyst in California, and is proud to marry his choice.
He further said that doctor guy could have been happily enjoyed his gay status if the society hasn't had that grave influence on our lives.
"Society never comes to pay our bills, so why should we pay heed to them," explained Neil.  
Neil and Eli enjoy official wedding status in United States but if it was India, their marriage would have been termed illegal under section 377 of Indian Penal Code
The section was declared unconstitutional with respect to sex between consenting adults by the High Court of Delhi on 2 July 2009. That judgement was overturned by the Supreme Court of India on 12 December 2013, with the Court holding that amending or repealing Section 377 should be a matter left to Parliament, not the judiciary.
Expressing his views over the critical issue, Eli said incompatible marriages only add to the misery and do no good for the person as well as his family.
"If the society forces a person to get into a relationship with someone with whom he/she is not compatible, it's not only spoils that person's life but of entire family.
He also recalled how the similar suicide cases also hit the United States in the recent past and there is a serious need to address the issue.
"She would have lived a long and happy life if not married to a gay person," insisted Eli who seemed furious over the incident.
As we move towards modernization, it becomes necessary to provide recognition to different sets of people existing in the society.
With transgenders being gradually been diverted into mainstream, its high time that LGBT community, which accounts to 25 lakh, should receive its due position in the society.