Indian rupee down the years (watch in pics)
New Delhi: The Indian rupee, which was at par with the American currency at the time of independence in 1947, hit a record low against the dollar recently.  India was one of the first issuers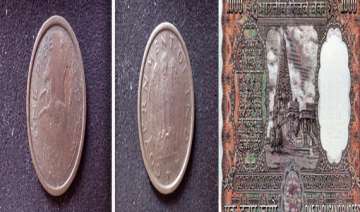 PTI
August 23, 2013 14:56 IST
New Delhi:
The Indian rupee, which was at par with the American currency at the time of independence in 1947, hit a record low against the dollar recently. 
India was one of the first issuers of coins, and as a result it has seen a wide range of monetary units throughout its history.  
There is some historical evidence to show that the first coins may have been introduced somewhere between 2500 and 1750 BC.  
However, the first documented coins date from between the 7th/6th century BC to the 1st century AD.  
Let's go back and watch in pics the progress (or rather, decline of) Indian rupee down the years: