Indo-Nepal border vulnerable to terrorists due to earthquake chaos, says IB
The chaos caused due to the earthquake in Nepal has opened the Indo-Nepal border to terrorist infiltrations. The Intelligence Bureau (IB) has alerted Uttar Pradesh through a communiqué about the anticipated terror.The bureau has warned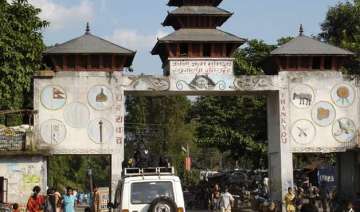 India TV News Desk
April 30, 2015 9:27 IST
The chaos caused due to the earthquake in Nepal has opened the Indo-Nepal border to terrorist infiltrations. The Intelligence Bureau (IB) has alerted Uttar Pradesh through a communiqué about the anticipated terror.
The bureau has warned the state to intensify vigil at the border of Maharajganj, Siddharthnagar, Balrampur, Shravasti, Bahraich, Lakhimpur Kheri and Pilibhit in the state.
A senior intelligence officer said that the UP government has opened several camps along the border to provide relief to the affected people of Nepal. He said, "It has become impossible for the forces to keep an eye on every person entering India from Nepal after the devastating earthquake in that country."
However, he told that in such a situation it is their duty to ensure hassle-free passage to the quake-affected people but the terrorists have used this as an opportunity to enter India in the guise of victims.
Inspector General of Anti-Terrorism Squad (ATS) Ram Kumar said, "We are keeping close vigil along the Indo-Nepal border. Sashastra Seema Bal (SSB), local police, ATS and other agencies have been working to prevent any infiltration." Kumar also admitted that the terrorists could enter India in the guise of relief workers.
Meanwhile, Nazir Khan, IG of SSB visited Sonauli border in Maharajganj district on Tuesday and took stock of the situation. He told that apart from ensuring food and medicines for the people in the camps, security continues to remain their top priority.
"We cannot afford to keep our eyes away from those who are entering India through Nepal border," he said.
Another SSB Director General visited Nautanwa area in Maharajganj to keep a vigil on the situation.
UP government has brought about 6000 people in 106 buses from Nepal and kept them at several relief camps. Over a dozen camps have been set up along the borders and around 200 buses have been sent to Kathmandu to bring whosoever has been rendered homeless in the quake.
Thousands of more are expected to arrive in India via road after the quake. As per the officials a convoy of 80 buses has already moved through road. The Indian government also wants to stop sending relief by air and use the road route.