Ink-Thrower Had A Bottle Of Acid, A Walkie Talkie, Says Ramdev
New Delhi/Patna, Jan 14: As the Congress, RJD, BJP and other political parties condemned the ink-throwing act on Swami Ramdev, the yoga guru told mediapersons that his assistants have told him that a bottle of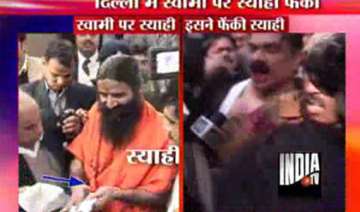 India TV News Desk
January 14, 2012 16:06 IST
New Delhi/Patna, Jan 14: As the Congress, RJD, BJP and other political parties condemned the ink-throwing act on Swami Ramdev, the yoga guru told mediapersons that his assistants have told him that a bottle of acid and a walkie talkie was found with the assailant.

Swami Ramdev said, my assistants told me he had a bag left on the chair, inside which was a bottle of acid.

"He had a walkie talkie, but I don't know whether he was using it for taking instructions", said Ramdev.

The yoga guru said he did not trust the government agencies in finding out the real conspirators behind this act after the Ramlila Maidan incident.

Kamran Siddiqui, the NGO activist, who had filed a complaint with National Human Rights Commission in 2008 challenging the Batla House encounter, also shouted some words about Batla House while throwing the ink today.

"This incident has nothing to do with Batla House encounter", said Ramdev.

"I have so many supporters who belong to the minority community. People from the minority community even work in my Patanjali Yogpeeth",he said.

Swami Ramdev appealed to his supporters to maintain peace and should not be provoked by this incident.

"It's a question of issues, not individuals. Even if I am alive or not, out struggle to bring back black money to India shall continue", said the yoga guru.

Asked who could be behind this act, Ramdev said, it did not matter who were behind it. "The fact is that a person from the minority community was misused to carry out this act. But whatever happened today was a conspiracy."

"Even Prophet Mohammed, Jesus Christ, Gautam Buddha, Swami Dayanand had to face protests and atrocities. Tell me one great man who did not face crimes from criminals. I am also facing the same. Let me tell you, I will fight my battle against black money till my last breath", said Ramdev.

On Congress leader Digvijay Singh's remarks that he was not a swami but a businessman, Ramdev said, "I don't need a character certificate from a person who lacks character."
In Patna, RJD supremo Lalu Prasad condemned the act saying the "unfortunate" man has done a wrong thing.

"Diwali (he meant Holi) is a far way off. He should not have done such an act", Lalu Prasad said, adding that Ramdev has done so much good work too.
 
The Congress strongly condemned today's incident of ink-throwing on Swami Ramdev.