Intelligence agencies warn of 26/11 style attack in Mumbai
New Delhi: Intelligence agencies have warned Mumbai Police over a possible terror attack, similar to 26/11 Mumbai strike, taking place in the city in the next few months.Earlier this month, the Mumbai railway police had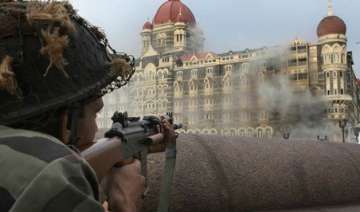 India TV News Desk
April 14, 2015 18:31 IST
New Delhi: Intelligence agencies have warned Mumbai Police over a possible terror attack, similar to 26/11 Mumbai strike, taking place in the city in the next few months.
Earlier this month, the Mumbai railway police had revealed that the terror outfit Lashkar-e-Taiba was planning to attack hotels and railway stations in the city in the forthcoming two to three months, in a 26/11 style strike. 
The letter warned that around 10 terrorists may enter Mumbai via sea route to conduct the possible attack. This letter is also the part of caution warning issued by the Intelligence agencies. 
A possible Laskhar strike has been warned since the time BJP-led government took charge last year.
A nationwide  alert has also been issued to all the states. As per some media reports, top intelligence agencies have issued a 'generic alert' to all the states a few days ago, without mentioning any specific target.
The alert is also being seen as crucial as it has come at the time when the Lashkar-e-Taiba top commander Zaki-ur-Rehman Lakhvi got released from prison in Pakistan.
He was released on Saturday after a Pakistan court declared his detention illegal. He was arrested in 2009, months after 166 people were killed by 10 gunmen in a three-day siege in Mumbai.
Lakhvi and six others were charged for planning and executing the siege however, even after repeated protests from the Indian side, virtually no progress was seen in the last six years.