Ishrat encounter: Gujarat top cop Pandey sent to CBI custody
Ahmedabad: A Special Court today remanded senior Gujarat IPS officer P P Pandey, a key accused in the Ishrat Jahan encounter case, in CBI custody till August 21.  The Central agency sought 14-day remand of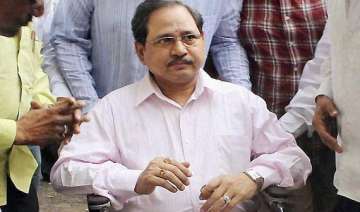 PTI
August 17, 2013 15:18 IST
Ahmedabad:
A Special Court today remanded senior Gujarat IPS officer P P Pandey, a key accused in the Ishrat Jahan encounter case, in CBI custody till August 21. 
The Central agency sought 14-day remand of Pandey for interrogation, but Additional Chief Judicial Magistrate (ACJM) H S Khutwad, presiding over the CBI Court here, granted only four-day custody.
The court accepted Additional DGP's plea that he be questioned by CBI in the presence of his lawyer.  
Pandey had gone underground in April after his name surfaced in the encounter probe and was declared an absconder by the court. He resurfaced after the Supreme Court, and subsequently Gujarat High Court, temporarily gave him protection from arrest before again going underground.  
Khutwad had reserved order on CBI plea last Wednesday after defence and prosecution counsels completed arguments.  
CBI lawyer had argued that Pandey's interrogation was required to find out the real identity of two of the encounter victims, Amjad Ali Rana and Zeeshan Johar.  They were with Ishrat Jahan, a Mumbai girl, and her friend Javed Shaikh alias Pranesh Pillai, the other two victims.
After the Supreme Court rejected his anticipatory bail plea on Monday, Pandey surrendered before the CBI Court the next day and was sent to judicial custody till August 27.  
He was Joint Commissioner of Police (Crime) in Ahmedabad when Ishrat and the three others were gunned down by Crime Branch sleuths on June 15, 2004.
Gujarat Police had then claimed they were terrorists, but CBI later concluded that the four were killed in a "fake" gunfight.
CBI lawyer Ejaz Khan argued that Pandey was part of a larger conspiracy and the agency needed to interrogate him to find out the role of other accused.
"The agency still has to ascertain the true identity of Johar and Rana. As Pandey had visited these two when they were kept in prior custody, his custodial interrogation is vital," submitted Khan.
It was initially believed that Johar and Rana were Pakistani nationals but this has not been established yet.  
Pandey's lawyer Ajay Choksi opposed CBI plea and claimed the agency had collected all the evidence from the other six accused police officers and it did not need the custody of his client.
"Pandey's role was only limited to getting intelligence inputs from then Ahmedabad Police Commissioner and to pass them on to his subordinates," Choksi argued.  
CBI, in its charge sheet filed early last month, had termed the fake encounter as a joint operation undertaken by Gujarat Police and Intelligence Bureau.